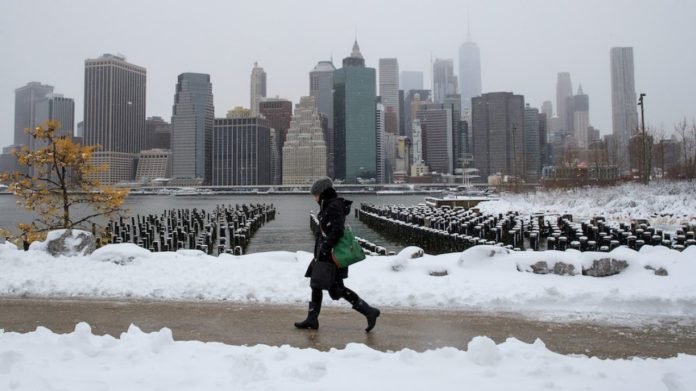 -Ad-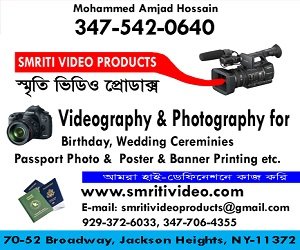 A rapidly-intensifying winter storm system known as a "bomb cyclone" targeted the Northeast on Thursday with snow, ice, and bone-chilling winds that canceled thousands of flights and left schools shuttered across the region before it ushers in "life-threatening" temperatures this weekend.
The National Weather Service issued blizzard warnings for parts of Delaware, Virginia, Maryland, coastal New Jersey, Long Island, N.Y. and coastal eastern New England. Most of those areas could see at least a foot of snow, while nearly two feet of snow was projected in locales further north.
"Snowfall will increase northward into portions of the Mid-Atlantic and New England through Thursday. Blizzard conditions are possible close to the coast in portions of the Mid-Atlantic and Northeast," the NWS said in its advisory. "Confidence in heavy snowfall has increased for parts of the Northeast as the surface low is expected to track closer to the coast and intensify rapidly."
Some computer models have shown the storm with a minimum central air pressure below 950 millibars when it reaches its peak, which would be similar in strength to that of Superstorm Sandy, which had a minimum pressure of 945 millibars when it slammed into New Jersey in 2012, according to the National Oceanic and Atmospheric Administration.
This storm will stay completely out at sea, but bring winds "in excess of hurricane-force" along the coast, according to Fox News Senior Meteorologist Janice Dean, with "damaging" wind gusts of over 70 mph possible in coastal eastern Massachusetts, including Martha's Vineyard and Nantucket Island by Thursday afternoon.
"This could be one of the strongest offshore storms we've ever experienced with a central pressure in the 950s," Dean said.
"This could be one of the strongest offshore storms we've ever experienced with a central pressure in the 950s."

– Fox News Senior Meteorologist Janice Dean
Ryan Maue, a meteorologist at the private firm Weather.US., said the storm will bring "vigorous" squalls along coast.
The storm moved out of the Southeast after bringing rare cold and snow to the region. Floridians in Tallahassee saw snow for the first time in nearly 30 years, while Charleston, S.C. saw at least five inches of snow and ice. Savannah, Ga. also received about 1.2 inches of snow.
'BOMB CYCLONE' WINTER STORM TO HIT US EAST COAST: WHAT IS IT?
The storm has resulted in thousands of canceled flights at major airports such as Boston's Logan International Airport and New York's LaGuardia Airport and has disrupted the schedules at regional airports. Amtrak planned to operate a modified schedule between New York and Boston on Thursday. Northeast Regional Service between Washington, D.C., and Newport News/Norfolk, Virginia, was canceled for Thursday.
"The heaviest snow is expected in eastern New England and eastern Long Island, where a foot or more of snow is possible," Dean said. "Accumulations of at least 6 inches are possible as far west as parts of Vermont, western Massachusetts, Connecticut, parts of the New York City central and southern New Jersey, coastal Delmarva Peninsula and the Tidewater of Virginia."
State and local officials urged residents to prepare for possible power losses and stay home so crews can clear streets and roads of what could be as much as foot or more of snow in some places.
Once the storm passes by Friday, the danger will still remain as "even colder Artic air" arrives by this weekend, according to Dean.
"The dangerous second part of this storm will be the record breaking cold this weekend with lows in the single digits this weekend for parts of the Northeast and wind chills below zero," Dean said. "This will be life-threatening especially for those who lose power."
There were concerns in Boston and elsewhere that if roads aren't properly cleared, they could freeze into cement-like icy messes by Friday, given the expected low temperatures. In other areas, plummeting temperatures already have caused water mains to burst.
Boston Mayor Marty Walsh said the city is taking steps to keep people safe during the storm, including closing city schools and implementing a parking ban that goes into effect Thursday at 7 a.m., Boston 25 News reported.
"As your governor, I am asking you, I am imploring you to stay home tomorrow. Let us do our work," Rhode Island Gov. Gina Raimondo said Wednesday. The state's electric utility, National Grid, predicted power could be knocked out to an estimated 50,000 customers with the expected high winds that could gust up to 70 mph.
The New York City Sanitation Department dispatched 2,400 workers ahead of the storm to get the streets ready, FOX5 New York reported.
"As the weather meteorologists have started to talk about, this is a bombogenesis, which means that we are going to have exceptionally strong winds,"  Commissioner Kathyrn Garcia said. "So anything that is falling in these cold temperatures is likely to blow around and drift."
SOUTHEAST SOCKED BY RARE SNOWSTORM AHEAD OF 'BOMB CYCLONE' FORECAST TO HIT NORTHEAST
Residents across the Northeast were also taking the proper precautions as the storm approached.
Shoppers in Connecticut spent Wednesday clearing the food off store shelves as they got ready for the frigid onslaught.
"It's a mad house," Oakley Porter of Norwich told FOX61. "It's chaos the lines are all backed up it takes a while to get out."
In the Boston area, there was minimum parking and not enough carts to go around at a Market Basket supermarket in Waltham, located in the western suburbs, according to Boston 25 News. Managers adjusted schedules to make sure extra employees were at the store, consistently restocking shelves that quickly emptied out.
"Well, I was going get bread and milk. But there's no bread or milk," one shopper said.
Tressa Shifflett, of Virginia Beach, Va., told the Associated Press that she planned to spend most of her time Thursday playing Monopoly, Go Fish and Pokemon with her 11- and 13-year-old children.
"We basically just plan on hunkering down," she said
Doug Nashold, a retired Navy veteran of Norfolk, Va., said he was already dealing with a pipe burst.
"I thought I was prepared, but it got colder a lot quicker than I thought it would," he said.
The blast of winter weather and plunging temperatures that has gripped much of the U.S. in recent days already has taken a human toll.
The number of deaths linked to the relentless cold had risen to at least 17 on Wednesday. Two homeless men were found dead in Houston, where police said the deaths were believed to be the result of "exposure to frigid weather." Deaths also were reported in Mississippi, Michigan and other states.
Fox News' Nicole Darrah, Terace Garnier, and the Associated Press contributed to this report.
*News Searching By Fox News*