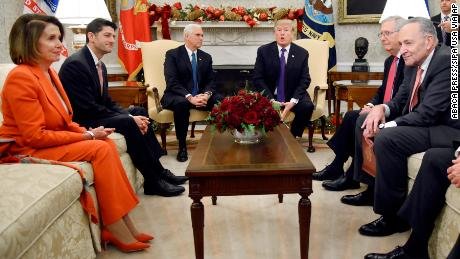 Trump: DACA should be a "bill of love"
-Ad-
Saying he was thrilled to be in a room of distinguished Democrats and Republicans, President Trump said any DACA legislation must be bipartisan and should be "a bill of love."
"Having the Democrats in with us is absolutely vital. It should be a bipartisan bill. A bill of love. Truly it should be a bill of love," Trump said.
It also must, the President added, include three things:
Enhance border security: This includes the wall and more resources for ICE agents. He said he wants a wall "on a good portion" of the border.
End chain migration: The term "chain migration" refers to immigrants coming to a country based on a connection to family. "A lot of people in this room want to see chain migration ended," Trump said, citing the recent New York truck attack as an example of why he wants it ended.
End visa lottery: The Diversity Immigrant Visa Program awards up to 50,000 individuals per year a visa for a green card, which bestows permanent residency in the US and is a path to citizenship.
Reporters were in the DACA meeting with Trump for nearly an hour
President Trump is hosting a meeting about DACA, and he invited the press into the room. That was nearly 55 minutes ago. The press just left.
Why we're telling you this
We could soon hear where Trump and several key lawmakers stand on the DACA deal. We will give you all the info here on that meeting, which is called a "pool spray."
YOUR QUESTIONS, ANSWERED
What is DACA?
The Deferred Action for Childhood Arrivals is President Barack Obama's signature immigration policy. It protects immigrants who were brought to the United States as children.
Those protections have allowed DACA recipients to obtain valid driver's licenses, enroll in college and legally secure jobs. They also pay income taxes. The program didn't give them a path to become US citizens or even legal permanent residents
In September, Attorney General Jeff Sessions announced that the Trump administration was rescinding DACA.
Why we're not expecting an official DACA deal today
President Trump is meeting with Republicans and Democrats today to discuss a possible deal on DACA. So could a major breakthrough come from this?
"The short answer is no," CNN's Phil Mattingly said. But that doesn't mean today isn't important.
A large number of lawmakers are attending the meeting, and they come with a range of opinions. That diversity makes aides on both sides, in both chambers feel as if this meeting "is more for show than anything else," Mattingly explained.
YOUR QUESTIONS, ANSWERED
Is there a possibility for amnesty for DACA recipients?
Trump said earlier this year that his administration was not looking at "citizenship" or "amnesty" but that they are "looking at allowing people to stay here."
However, Trump has demanded that funding for the border wall would need to be part of any deal, but it's unclear how far he would be willing to go to protect DACA recipients. "If we don't have the wall, we are doing nothing," but later added that the wall could come later.
All that said, our lawmakers have varying degrees of what "amnesty" actually means. Some immigration hardliners see any agreement to allow undocumented immigrants to stay is considered amnesty.
Moderate Republicans are increasingly frustrated about a possible DACA delay
From CNN's Lauren Fox, MJ Lee, and Deirdre Walsh
There is growing frustration and anger among moderate House Republicans who are vulnerable next year at what they perceive to be leadership's potential willingness to consider another punt on immigration.
According to one political operative familiar with negotiations and who's spoken with multiple members since last night, given that House Republicans were assured that DACA would be dealt with first thing this year, any hint now of possible further delays has members freaked out about what this will do to their political prospects ahead of November.
If DACA is an outstanding issue a month or two from now, these Republicans are venting that there's no way they can run on tax cuts in seven, eight months, when they expect there to be a deluge of local coverage about immigrants in their distracts losing their jobs or facing imminent deportation.
Why this could hurt Republicans
Moderate Republicans have been warning leaders and colleagues for some time that punting this closer to the election is exactly what the Democrats want and only hurts their members in swing districts. They are frustrated that those in safe districts regularly ignore these warnings and are again pushing leaders to push off the DACA discussion until after a budget deal — which is a nonstarter for Democrats.
From CNN's Sarah Mucha
Sen. John Cornyn tells CNN that the "clock is ticking" on coming to a resolution on DACA.
"We need a solution. I think it's important to have both Democrats and Republicans there, as the President insisted in order to find out where we are, but we know the clock is ticking and we need border security and a solution for these DACA recipients," he said.
He added that while he "hopes" the government can avoid a shutdown, it's "likely" that there will be another short term continuing resolution to find the government.
Paul Ryan says Republicans want a DACA compromise
Speaker of the House Paul Ryan says that Republicans would like to see a compromise on DACA.
"We want to have a DACA compromise. We want to make sure the DACA problem is solved," he said. "But as you've heard me say time and again, this has to be balanced so that we don't have a DACA problem five, 10 years down the road."
Ryan said there needs to be the "right kind of interior and border enforcement."
Here's why the Trump administration decided to end DACA
From CNN's Catherine E. Shoichet, Susannah Cullinane and Tal Kopan
Attorney General Jeff Sessions announced in September that the administration was rescinding DACA.
The move came after 10 state attorneys general wrote to the President over the summer asking him to end DACA and giving him a September 5 ultimatum.
Their message: Rescind DACA, or get prepared for a legal challenge from us.
The move was praised by groups who advocate for stricter immigration controls, who have long decried DACA as executive overreach and argued that it is akin to providing amnesty for lawbreakers.
Immigrant rights activists had said the attorneys general gave Trump what amounted to a false deadline, calling on the administration to stand its ground and keep the program in place.
CNN