-Ad-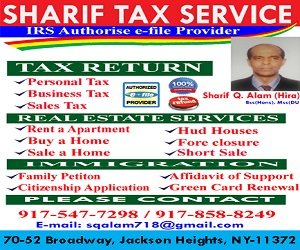 Hindustan Surkhiyan Desk:The current Mega Millions jackpot of $502 million is not just big, it's among the largest in history.
If no one wins on Friday evening, this jackpot will just keep climbing up the list.
Until there's a winner, here's a look at the current 10 largest lottery jackpots and some of the lucky people who won big.
10. $487 million (Powerball)
Won July 30, 2016. The anonymous winner in New Hampshire made an initial donation of $100,000 with their winnings, according to Powerball.
9. $536 million (Mega Millions)
Won July 29, 2016. A family in Indiana was in disbelief when they realized they'd won such a big prize.
"They actually closed their Internet browser and tried it again, even restarted their computer," reads a press release. "They couldn't believe their eyes."
8. $559.7 million (Powerball)
An anonymous woman in New Hampshire became the first big winner of 2018. Through her law firm, the winner announced that $250,000 would be donated to charity.
7. $564.1 million (Powerball)
Winning tickets were sold for this jackpot in Texas, North Carolina and Puerto Rico on Feb. 11, 2015.
6. $587.5 million (Powerball)
Won Nov. 28, 2012. Winning tickets sold in Missouri and Arizona.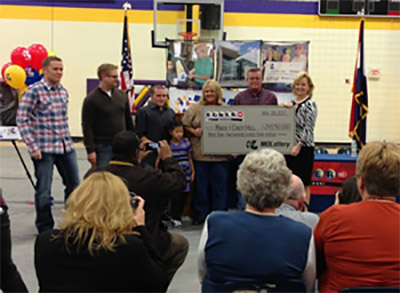 Cindy and Mark Hill of Dearborn, Mo. said they planned on paying for the college educations for their four granddaughters and their four nieces and nephews. The following year, an email phishing scam reportedly used the Hills' name and the promise of a share of their fortune to acquire bank account numbers.
5. $590.5 million (Powerball)
Won by Gloria MacKenzie on May 18, 2013. Winning ticket sold in Florida.
4. $648 million (Mega Millions)
Won Dec. 17, 2013. Winning tickets sold in Georgia and California.
Ira Curry of Stone Mountain, Ga. said her winning numbers were a combination of family birthdays and the family's lucky number — 7.
San Jose, Calif. resident Steve Tran had purchased multiple tickets at multiple stores on his route as a delivery driver and realized he had been to the winning store in the middle of the night.
3. $656 million (Mega Millions)
Won March 30, 2012. Winning tickets sold in Maryland, Illinois and Kansas.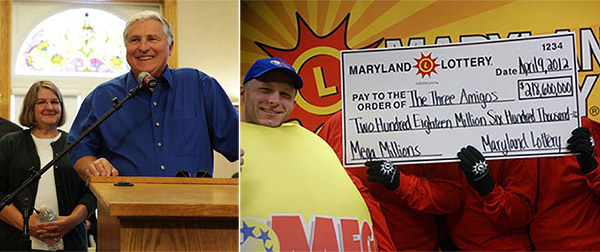 Merle and Patricia Butler of Red Bud, Ill. kept their win a secret for nearly three weeks before coming forward to claim their prize. The couple, married for 41 years at the time of their win, said they planned to buy a new car and attend a few St. Louis Cardinals games. Last year, someone claiming to be Merle Butler on Instagram said he was giving away his winnings, but Butler told TMZ he didn't even have an Instagram account.
The Maryland winners referred to themselves as "The Three Amigos." All worked in Maryland's public education system and pooled their money to buy 60 tickets. They joked that they planned to celebrate their win by getting matching tattoos of the winning numbers.
2. $758.7 million (Powerball)
Won August 23, 2017. The largest jackpot for a single winner. The lucky ticket was sold in Chicopee, Massachusetts to Mavis Wanczyk.
Our first look at the #Powerball jackpot winner with @DebGoldbergMA https://t.co/gevM74ftYs pic.twitter.com/MK16ESfHTR

— WCVB-TV Boston (@WCVB) August 24, 2017
1. $1.586 billion (Powerball)
Won Jan. 13, 2016. Winning tickets were sold in California, Florida and Tennessee, making the annuitized amount for each winning ticket nearly $528.8 million.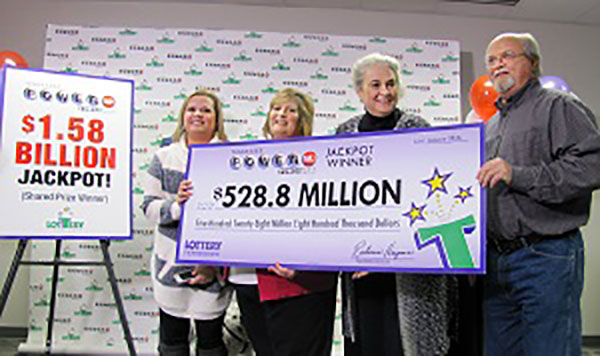 The Robinson family of Munford, Tenn., showed up with their dog to claim their winnings.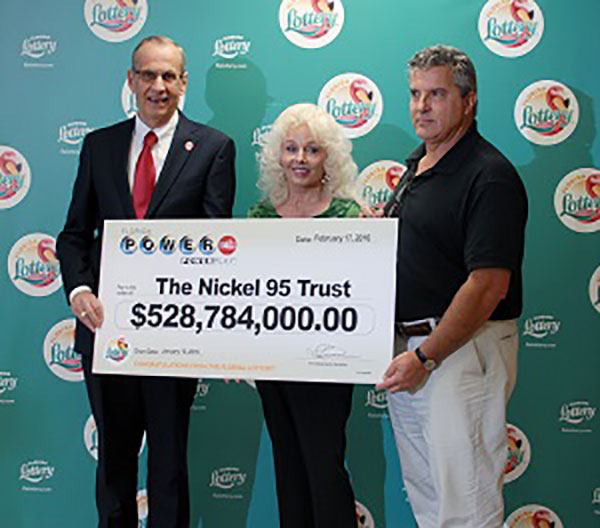 The Florida winner, who claimed her prize with a trust, told Powerball that she had been playing the same number for years before it finally paid off.
The California winners said they did not wish to become public figures and had designated most of the money for a trust to benefit charity.
"We are thankful and blessed for the rare gift that has been placed in our care. We have engaged a team of advisors to educate and guide us through this process so that we can be good stewards of these new resources," their statement reads.
Powerball is played in 43 states, Washington, D.C., and the U.S. Virgin Islands. All amounts listed are the annuity option. Many winners choose the cash option.
Editor's note: Powerball officials had initially listed Watertown, Massachusetts as the location of the winning ticket on August 23, 2017. Officials later corrected it, and this story has been updated to reflect that.
The Associated Press contributed to this report.abc7ny.