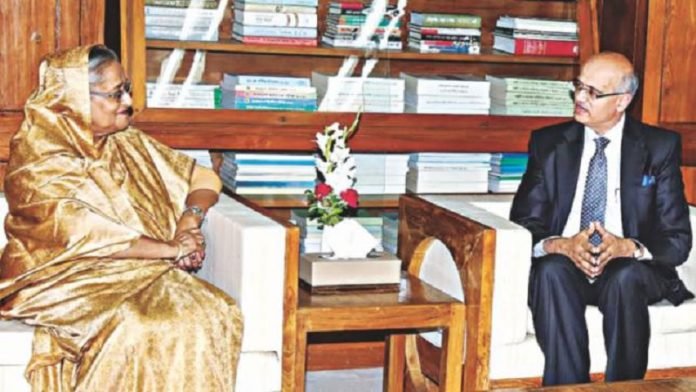 -Ad-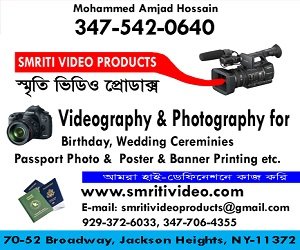 Hindustan Surkhiyan Desk:Prime Minister Sheikh Hasina yesterday urged India to put more pressure on Myanmar to take back over one million Rohingya refugees living in Bangladesh.
She made the call when Indian Foreign Secretary Vijay Keshav Gokhale met her at her Sangshad Bhaban office, PM's Press Secretary Ihsanul Karim told reporters after the meeting, reports UNB.
Gokhale said India was well aware of Bangladesh's problems due to the arrival of Rohingya refugees. "We shall continue to urge Myanmar to take back Rohingyas."
Hasina said her government is preparing an island to relocate about one lakh Rohingya refugees as landslides might occur in Cox's Bazar during monsoon.
She also mentioned that Bangladesh was in touch with five neighbouring countries, including India, China and Thailand, over settling the issue.
The Indian foreign secretary said his government would provide the second package of assistance for the refugees after discussion with Bangladeshi officials.
Gokhale put emphasis on building field-level hospitals saying the problem would be very serious, particularly for women and children, during the upcoming monsoon.
He assured that India would extend support to build the field hospitals.
Gokhale also informed Hasina that Prime Minister Narendra Modi wants to fulfill all the commitments he made to Bangladesh.
The PM mentioned that Bangladesh and India have resolved many problems successfully through discussions. "Now one problem needs to be resolved," Hasina said, adding that she was hopeful of settling the Teesta issue, also.
Gokhale said India would provide third line of credit after monitoring the ongoing projects in Bangladesh and a substantial progress in this regard would be seen by the year-end.
He said the Indian premier was looking forward to hold a meeting with Hasina on the sidelines of the CHOGM summit to be held in London next week.
At the meeting, the PM recalled with gratitude the contributions of India and its people during the Liberation War in 1971.
Bangladesh High Commissioner to India Syed Muazzem Ali and Indian High Commissioner to Bangladesh Harsh Vardhan Shringla were present.
GOKHALE-SHAHIDUL HOLD TALKS
In an oblique reference to signing of Teesta River Water Sharing agreement, Indian Foreign Secretary Vijay Keshav Gokhale yesterday said India was "working hard" internally to resolve the issue.
He was making a press statement at the State Guest House Padma yesterday afternoon after holding nearly three-hour official talks with his Bangladeshi counterpart Md Shahidul Haque, reports our diplomatic correspondent.
The Bangladesh foreign secretary said they discussed the Teesta issue in the meeting and the Indian government reiterated its commitment to resolve it at the earliest.
However, diplomatic sources said there was no sign of inking the deal in near future since the Indian side was yet not take any such visible move to reach an internal consensus. India also made it clear that it would not give specific time frame to sign the deal and rather showed several reasons like federal system of the country and approval of the state government.
Gokhale said, "I have focused on the tremendous progress we have achieved in our bilateral relationship. We are also aware of a few of the outstanding issues. We assure you we are working hard to resolve them."
About the refugee crisis, the Indian foreign secretary, without mentioning the word of "Rohingya", said his country has been supportive of the efforts being made to resolve the crisis, including early repatriation of the displaced people from Myanmar's Rakhine State.
Lauding Bangladesh, he said its humanitarian gesture in supporting lakhs of displaced people has been truly commendable.
He said India had sent relief materials for 300,000 people in September last year under "Operation Insaniyat" to support the Bangladesh government in its humanitarian efforts.
"We are planning a second tranche of assistance in keeping with the needs projected by the government of Bangladesh…. On the Myanmar side, we are providing socio-economic support under Rakhine State Development Programme, including construction of pre-fabricated housing in order to meet the needs of the returning people."
Gokhale said they also discussed the challenges and opportunities the two countries need to face together.
"One such challenge is that of terrorism, extremism and radicalisation and we will continue to fight this menace together and along with other like-minded countries."
He said they were satisfied with the progress achieved in areas such as trade and investment, security, connectivity, border management, power, energy, shipping and people-to-people exchange, to name a few.
Terming Bangladesh "Sonar Bangla", the Indian foreign secretary congratulated Bangladesh on recently meeting the criteria for graduating from LDC to a developing country.
The Bangladesh foreign secretary said they discussed the Rohingya issue. "We are very happy the way our friend from India is looking at the issue, looking at peacefully resolving this issue."
Bangladesh High Commissioner in New Delhi Syed Muazzem Ali and Indian High Commissioner in Dhaka Harsh Vardhan Shringla were present at the meeting.
Before the bilateral meeting, Gokhale met Foreign Minister AH Mahmood Ali at the same venue.
The Indian foreign secretary arrived here on Sunday afternoon on a two-day visit and is due to leave Dhaka for New Delhi this morning.
'BOOST INDO-BANGLA COOPERATION'
Speaking at an India-Bangladesh conclave at Sonargaon Hotel in the capital, the Indian foreign secretary yesterday said Bangladesh and India need to enhance cooperation and sustain it to serve the common interests of the two countries.
"India and Bangladesh today host a record number of bilateral institutional mechanisms that monitor and facilitate progress in all areas of cooperation."
The bilateral cooperation between the two countries is based on a "win-win" formula, he added.
The Institute for Policy, Advocacy and Governance (IPAG) organised the daylong conclave on "Bangladesh-India Relations: Deepening Cooperation and the Way Ahead".
Prime Minister's International Affairs Adviser Gowher Rizvi and the Indian high commissioner in Dhaka also spoke on the occasion.