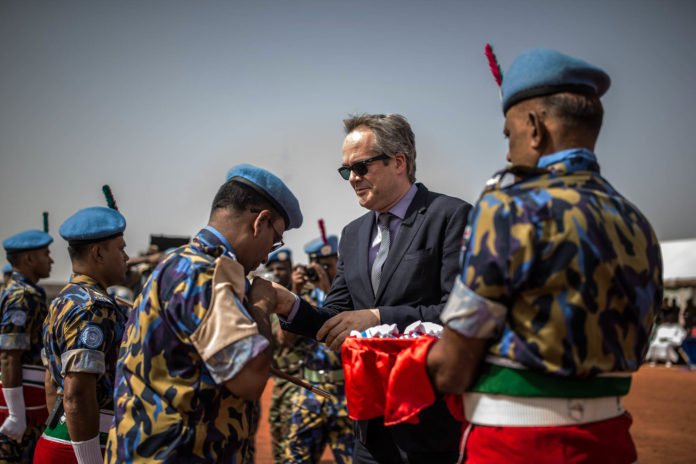 -Ad-
Hindustan Surkhiyan Desk:On 12 April 2018, 139 members of a Bangladeshi Formed Police Unit (FPU) serving with the United Nations Multidimensional Integrated Stabilization Mission in Mali (MINUSMA) were awarded the UN medal for their efforts to support peace in the West African country.
The medal ceremony was held at MINUSMA's Operational Base in Bamako, Mali.
The Deputy Special Representative of the UN Secretary-General, Mr. Koen Davidse, Deputy Chief of the MINUSMA Police Component, Brigadier General Jean-Frédéric Sellier, and many other distinguished guests, including a High-level Delegation from Bangladesh, attended the colorful ceremony.
According to Brigadier General Sellier, "The decorated Bangladeshi police officers have performed their missions properly and with determination and professionalism. On behalf of MINUSMA, I congratulate you and thank you for the work accomplished."
The peacekeepers are from the fourth rotation of the Bangladeshi FPU, since the UN peacekeeping mission deployed in 2013.
Bangladesh is the second largest contributor of military and police personnel to United Nations Peacekeeping, with more than 7,000 now serving around the world, including more than 1,600 in Mali.