-Ad-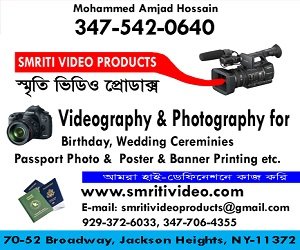 Hindustan Surkhiyan Desk:Prime Minister Sheikh Hasina today said she has accepted the demand of students, who were demonstrating for reform in quota system in the public service.
"As boys and girls did not want quota, so I have accepted their demand. There was no reason to be angry. What do you need to discuss it again?" she said responding to a query in a press conference at Gono Bhaban in Dhaka this afternoon.
She was briefing media about the outcomes of her just-concluded visits to Saudi Arabia, the UK and Australia. The prime minister visited Saudi Arabia and the UK from April 15 to 23 while Australia from April 26 to 29.
ROHINGYA CRISIS
Talking about her tour, she said the world leaders promised to stay beside Bangladesh to repatriate Rohingyas.
Responding to a query about the stance of Russia, China and India on the issue, she said, "We are going forward taking them with us."
Responding to a question whether the huge number of Rohingya people will create pressure on Bangladesh's economy, Sheikh Hasina said "We didn't face so much problems as we have got huge support from international community. Many organsations are providing foods, medicine and other essentials for Rohingyas."
Bangladesh government has given shelter to Rohingyas for the sake of humanity, she said.
ELECTION
The prime minister, responding to a query about BNP's participation in the next parliamentary election, said whether any political party will take part in the election or not, it is their own business.
"People will decide who will form the next government," she added.
TARIQUE RAHMAN
The prime minister said the government is trying to bring back BNP acting chairman Tarique Rahman as he is a fugitive convict.
"We have brought back many convicts from abroad. We will bring back Tarique Rahman also," she said.
Sheikh Hasina also said they were discussing with the British government to bring him (Tarique) back to Bangladesh through proper ways.
Women's leadership award dedicated to women
Sheikh Hasina dedicated her Global Women's Leadership Award to the women in Bangladesh and across the world.
She received the prestigious accolade from Global Summit of Women President Irene Natividad on April 27 in Sydney. The US-based Global Summit of Women conferred the award for her leadership in women's education and entrepreneurship in Bangladesh.
Talking about her initiatives taken for women's development, she said the government is allocating 10 percent plot for women entrepreneurs in the 100 economic zones.
It is not possible to alleviate poverty from country and ensure its development without educating women and empowering them economically, she said.
ROAD ACCIDENT
Over the recent spree of road accidents across the country, the prime minister said both the pedestrians and drivers may have fault behind a road accident.