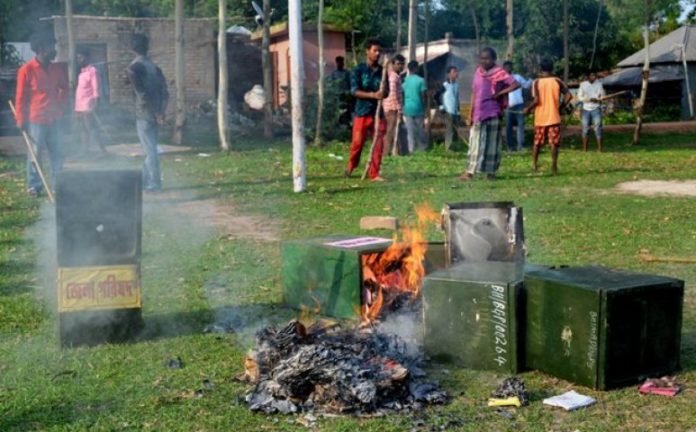 -Ad-
Hindustan Surkhiyan Desk:At least 13 people were killed on Monday as violence and clashes were reported from various parts of West Bengal during the panchayat polls.
Clashes between the supporters of the ruling Trinamool Congress and the opposition parties occurred in many parts of the state including North and South 24 Parganas, Nadia, Murshidabad and South Dinajpur districts.
The Centre sought a report from the West Bengal government on the violence during panchayat polls.  A Home Ministry official told PTI that the state government has been asked to provide a detailed report on the circumstances leading to the violence and the steps taken to restore peace and punish those involved in the violence.
Opposition parties accused the ruling Trinamool Congress of unleashing a reign of terror and destroying democracy.
"First they didn't allow people to file nominations. Second, after filing nominations, TMC started threatening the candidates to withdraw. The people who didn't withdraw were attacked. This is nothing but a complete destruction of the democratic process," CPI(M) general secretary Sitaram Yechury said.
Polling for electing 38,616 representatives across three tiers to West Bengal Panchayat (rural) bodies began at 7 a.m. on Monday.
Long queues were seen outside several booths as people from all social and economic backgrounds patiently waited for their turn to exercise their democratic right. 73 per cent of the electorate turned out to cast their vote.
As the nomination process started last month, all the opposition parties accused the Trinamool of indulging in strongarm tactics to prevent them from filing nominations.
As per reports, a student was student shot dead at Shantipur in Nadia when he went for booth capture for ruling party. CPM worker killed in the bombing in Amdanga of North 24 Parganas and a TMC worker killed in Kultali of South 24 Parganas at the polling booth.
A BJP worker killed in Beldanga in Murshidabad in the bombing and a husband & wife burn death in Kakdwip in South 24 Parganas.
Statistics reveal that of the total 58,692 seats in the three tiers of rural local bodies, 20,076 seats or 34.2 per cent have already been decided uncontested, with the Trinamool bagging a whopping proportion of these seats.
These seats include 16,814 of the total 48,650 panchayats, 3,059 of the total 9,217 panchayat samitis and 203 of the total 825 zila parishads.
Armed forces also arrived from Assam, Odisha, Sikkim and Andhra Pradesh to strengthen security arrangements.