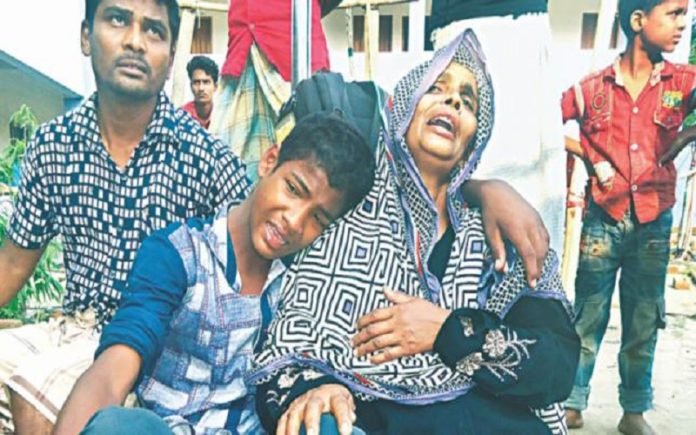 -Ad-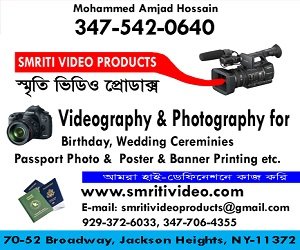 Hindustan Surkhiyan Desk:Nine women were killed and around 25 injured in a stampede when over 30,000 people gathered to collect free iftar essentials provided by an industrial group at a village in Satkania of Chittagong yesterday.
When people came to know about the distribution of free iftar essentials, they started gathering in front of the gate of Anis Bari Jame Mosque ground at Ghatiadanga village, said AKM Emran Bhuiyan, additional superintendent of Chittagong police (South Zone).
He said the authorities of Kabir Steel Re-rolling Mills (KSRM) were distributing the items.
Rizia Begum, 40, who went there with her sister Nur Jahan from Lohagara upazila the night before to collect the items, told The Daily Star that around 9.00am the gate of the mosque compound was opened for the women. Over 30,000 tried to enter all at once. Some fell and got trampled.
"I fell down. I somehow managed to get up but I lost my sister," she said.
"I saw many women lying unconscious on the ground … I found my sister among them but she was dead by then," said a crying Rizia.
Jobaida Akter, 52, went there from Chandanaish upazila. She said, "I came here at 9:00pm on Sunday and found some 30,000 women already waiting outside the gate.
"In the morning, when the gate was opened, all the women tried to enter hurriedly, leading to the accident," said the injured woman.
Another victim Monwara Begum, 45, said no policemen were there when it happened. Only some female officials of KSRM along with some hijras were there to maintain security, she said.
Imam Mahmudul Hasan Ansari of Anis Bari Jame Mosque, also a witness, said the ground could hold 3,500 people at best but the crowd was of over 30,000.
Mohammad Imtiaz, Satkania upazila health and family planning officer, said six injured were taken to the upazila health complex. All of them had injury marks usually seen in stampede victims.
"One of the critically injured women was referred to Chittagong Medical College Hospital," he said.
Interestingly, Nur-e-Alam Mina, Chittagong superintendent of police, told The Daily Star, "The cause of the death might be heatstroke while one or two of them might have been killed in the stampede."
A large number of people gathered in a small space, possibly leading to suffocation, said the SP, adding that almost all the women had burqas on.
Mina said, "We did not see signs and symptoms of stampede in the bodies during inquest.
"I visited the spot and I felt very uncomfortable due to severe heat and all the police personnel who went there also felt very uncomfortable due to the scorching heat. Moreover, there were structures around the ground that hindered smooth air flow.
"However, injury marks were seen in one or two bodies," he said, adding, "They might have died in a stampede."
The SP said there would not be any autopsy on the bodies as it was "not murder" rather "an accident".
Asked how police would proceed without autopsy reports if a case was filed, the SP said post-mortem was "not essential" in every case.
"Do you think, the organisers gathered the people there to kill them?" he asked The Daily Star correspondent.
Meghnath Tangchangya, assistant met officer of Chittagong Met Office, said the highest temperature in Chittagong was only 23 degrees Celsius at 9.00am.
Asked if people could suffer a heatstroke and die at 23 degrees, Civil Surgeon of Chittagong Azizur Rahman Siddique said people do not usually die of heatstroke at 23 degrees in an open space.
"When the temperature rises over 35 degrees, people are likely to be sick or may die," he said.
According to locals and media reports, some eight to 10 people were killed in another stampede in October 2005 at the same place for the same things and distributed by the same company.
Chittagong SP Mina said he heard about such an incident from locals but could not confirm whether any legal action was taken. "But this time action will be taken against the people responsible," said the SP.
Chittagong District Administration formed a five-member probe-body to investigate the matter, said Md Ilias Hossain, deputy commissioner of Chittagong.
The committee, led by an additional deputy magistrate of Chittagong, has been asked to submit its report within seven working days.
DC Ilias said their primary assumption was that the incident happened due to "mismanagement".
"They did not inform me about their distribution of iftar essentials among so many people," he said, adding, "Had they informed us, we would have not given them permission to arrange the programme for thousands of people in that small place."
SP Mina said KSRM authorities did not take permission from police to arrange the programme. "Had we known, we would have stopped the programme," he said.
Meherul Karim, chief executive officer of KSRM, said the women died of heatstroke.
When asked to explain the injury marks on the bodies and the injured, he said he was not sure whether there was a stampede or they had died of heatstroke as he was not at the scene.
He said Tk 3 lakh would be given to families of each deceased in addition to their burial costs.
The deceased were identified as Rashida Akter, 50, Hasina Akter, 40, from Khagaria of the upazila, Rina Begum, 30, from South Dhemsha of Satkania, Jyotsna Begum, 25, from Kalauzan of Lohagara upazila, Tuntuni Begum, 13, from North Kalauzan, Anwara Begum, 60, from Chandanaish upazila, Nur Jahan, 18, from Lohagara upazila, Saki Begum, 22, from Dhemsha of Satkania, and Bulu Akter, 35, from Puntibila of Lohagara upazila.
Stampedes are all too common in Bangladesh.
Ten people died and about 40 others were injured in a stampede at the kulkhwani of former Chittagong mayor Mohiuddin Chowdhury in December.
At least 27 people died in a stampede in July, 2015, during the distribution of zakat in Mymensingh town.