-Ad-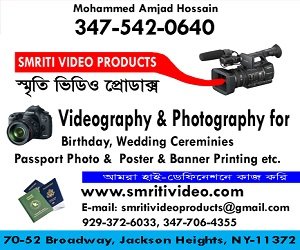 Hindustan Surkhiyan Desk:Two top leaders of Cox's Bazar Jubo League met Home Minister Asaduzzaman Khan last night and informed him that they knew Akramul Haque for 12-13 years but never found anything that proved his involvement in drug trade.
"Akram was not that solvent. He also never appeared to be a drug dealer," Sohel Ahmed Bahadur, president of the unit, told The Daily Star after the meeting.
Bahadur and the unit's General Secretary Shahidul Haque held a meeting with the minister at the latter's Dhanmondi residence for about 20 minutes from 9:00pm.
Bahadur said they requested the home boss to launch a fair investigation into the killing of Akramul, a former leader of Jubo League, the youth wing of ruling Awami League.
They also demanded exemplary punishment to anyone, if found guilty in the probe.
In response, Asaduzzaman said an investigation into the incident had already begun and action would be taken as per the probe report, Bahadur said.
The Jubo League leaders also requested the minister to take action against those who published false and fabricated news against Akram portraying him as a drug dealer and an owner of vast properties.
A news report mentioned that Akramul had a number of cars and houses, Bahadur said. "But we met Akramul's family members and we did not find anything like that."
The two leaders also sought assistance from the state for the family of Akramul.
On Thursday, Akramul's wife Ayesha Begum alleged during a press conference at Cox's Bazar Press Club that her husband was murdered in cold blood. She gave journalists four audio clips in support of her claim.
Rab, however, claimed he was killed in "gunfight" between the force and drug traders on May 27.
Amid huge outcry on social media over Akramul's death, the government decided to investigate the incident. The home minister on Monday talked to Ayesha but it could not be confirmed what he said to her.
Officials from the Prime Ministers' Office also communicated with the family, sources in the family said.
Meanwhile, Teknaf Awami League leaders said an emergency meeting of its executive committee will be held today to discuss the killing of Akram and decide the unit's next course of action over the matter.
The AL unit will also urge the prime minister and the home boss to launch an investigation to find out whether local MP Abdur Rahman Bodi played any role in the killing, they added.
MORE 'SHOOTOUTS'
Four more people were killed in three districts yesterday as the nationwide anti-narcotics drive continues.
Two alleged drug traders were killed in a "gunfight" between drug traders and police in Rangpur and Bogra while two bodies with deep injury marks were recovered from the Brahmaputra River in Mymensingh, police claimed.
The Daily Star could not verify the claims.
With the four, at least 136 alleged drug traders have been killed in the drive in the last 21 days. Most of them died in so-called shootouts involving Rab and police.
There was no incident of death in "shootout" on Monday.
In Rangpur, Shahjahan Hossain alias Dabirul, 50, was killed in a "gunfight" with police in Kaunia upazila around 3:30am, our Dinajpur correspondent reported quoting Saiful Islam, additional superintendent of Rangpur police (Circle A).
Shahjahan, son of Sohrab Hossain of the upazila, was accused in 10 cases, police said. The law enforcers claimed to have recovered 126 yaba pills, 173 Phensedyl bottles, a pistol and a bullet from the spot.
In Bogra, Liton alias Riten, 32, was killed in a "gunfight" with detectives in the town's Matidali area.
Police claimed they recovered 200 yaba tablets and two machetes from the scene, our Bogra correspondent reported quoting Officer-In-Charge of Detective Branch (DB) in the district Nure-Alam Siddiquee.
Police claimed Liton was accused in five drug cases.
Liton's wife Rasheda Khatun, however, said her husband was a drug addict and used to sell drugs three years ago. He stopped taking drugs a couple of months ago and started working as a helper of a truck driver recently, she claimed.
"He gave up everything. So why did police kill him?" she asked.
The two killed in Mymensingh were identified as Munna Mia, 22, and Idris Ali, 50, both hailing from Mymensingh town's Purahitpara area.
Locals found the bodies floating in the Brahmaputra River around 11:00am. On information, police recovered the bodies, said Khandaker Shaker Ahmed, inspector (investigation) of Kotwali Police Station.
Munna was accused in around 12 cases, including nine related to narcotics, while Idris in eight cases, he claimed.
They might have been killed in "clashes" between drug peddlers and their bodies were dumped into the river, he added.
Idris used to take drugs and he was admitted to a rehabilitation centre in the town's Mashkanda area 20 days ago, said Siddiqur Rahman, his younger brother.
"We were informed from the centre early Saturday that plainclothes men, identifying themselves as detectives, took away Idris, a father of three, from the centre. He had been traceless since then," said Saiddiqur.
Munna, who was also admitted to the centre, was taken away from there early Saturday, his family members claimed.
Sumaiya, younger sister of Munna, said her brother used to run a garment shop in the town's Station Road area and he had quit drugs around five years ago.
"We were in fear as many people are getting killed in the ongoing drive. And for this, we had admitted him at the centre to save him. But he had failed," she said.
Family members of both the deceased demanded proper investigation into the deaths.
This correspondent visited the centre for comments but none of the officials there agreed to talk. A youth, without disclosing his name, just gave a visiting card of the centre's chairman Alimun Raziun Rajib, who could not be reached.
Contacted, Ashiqur Rahman, officer-in-charge of DB of police in Mymensingh, denied the allegations.
Besides, two more alleged drug traders — Lutfar Rahman and Alauddin Mia — were injured during two separate "gunfights" between drug peddlers in Hakimpur and Sadar upazila in Dinajpur early yesterday, police claimed.
They were being treated at M Abdur Rahim Medical College Hospital in the district.
Meanwhile, a murder case was filed yesterday, days after bullet-hit body of alleged drug dealer Azad Kha was recovered in Alalpur area of Faridpur.
The law enforcers filed the case using the name of the family of Azad and kept it in the dark, the family members alleged.
Azad, 45, was allegedly picked up by plainclothes men on Friday night, and his body was recovered on Monday morning, claimed the family members.
However, AFM Nasim, officer-in-charge of Faridpur Sadar Police Station, said, "Rive Begum, wife of Azad Kha, filed the murder case against some unidentified men with Sadar Police Station on Monday night."