-Ad-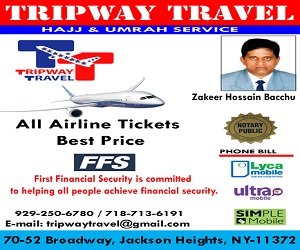 Hindustan Surkhiyan Desk:Vote counting in the Gazipur City Corporation (GCC) elections has begun as voting ended this afternoon with some allegations of irregularities at the polling centres.
Starting at 8:00am, the voting continued till 4:00pm without any break at 425 polling stations in 57 wards across the city corporation area.
This is an election of prestige for both the Awami League and the BNP as it is being held just six months before the parliamentary polls.
In the day's proceedings, no BNP camp or the party's agents were seen in any of the 72 polling centres out of 425 in the Gazipur city when our staff correspondents visited them.
Reports of BNP agents being driven out of some of the polling centres around 11:00am in the city were obtained.
When asked by our staff correspondent, the presiding officers, however, claimed in most cases that the BNP agents went out for drinking water or to use rest rooms.
Meanwhile, Awami League's men were seen wearing badge of the party's mayor candidate Jahangir Alam inside and outside of all the polling centres.
Huge showdown by AL agents chanting slogans inside and outside of the centres and even inside the booths wearing the party badge were seen.
It was also seen that the ruling party men were illegally stuffing ballots at some centres.
Presiding officers and law enforcing agency members were seen apparently inactive in creating a congenial atmosphere and preventing irregularities during the voting.
Some allegations of irregularities including stuffing ballot papers and violation of electoral rules have surfaced at different polling centres in the city.
Voting was suspended at nine polling centres over irregularities as miscreants allegedly snatched ballot papers and cast votes forcefully, triggering deterioration of law and order situation at the polling centres, Returning Officer Raquib Uddin Mondal told The Daily Star.
Also, BNP's mayoral candidate for Gazipur City Corporation (GCC) Hasan Uddin Sarker alleged that many of his agents were beaten up and driven out from different polling centres since voting began in the city this morning.
However, Awami League mayor candidate Jahangir Alam said he believed that voting for Gazipur City Corporation was held in a free and fair fashion.
Since the morning, voters were seen in long queues at different polling centres in the city, waiting for their turn to cast their votes, reports our staff correspondent from Gazipur.
Also, general holiday has been announced for today in the city corporation area and all factories and industries, including garments, in the area will remain closed on the day.
This is the country's largest city corporation, comprising parts of Gazipur-1, 2 and 5 parliamentary constituencies.
Gazipur is often considered a traditional AL bastion as the party fared well in all the national polls here since 1991. However, BNP won here in the last city corporation elections and stunned all.
According to Returning Officer's office, a total of 345 candidates, including seven for mayoral post, 254 for councilor posts, 83 for reserved posts for women, are vying in the polls while 11,37,736 voters will exercise their franchises.
The mayor candidates are: ruling Awami League nominated Md Jahangir Alam, BNP nominated Hasan Uddin Sarker, Islami Oikkya Jote nominated Fazlur Rahman (Minar), Islami Andolan Bangladesh nominated Md Nasir Uddin, Bangladesh Islami Front nominated Md Jalal Uddin, Communist Party of Bangladesh (CPB) nominated Md Ruhul Amin and independent candidate Farid Ahmed.
Three-tier security measures have been taken to ensure security during the election. About 10,500 members of law enforcement agencies, including police, Rapid Action Battalion (RAB), Border Guard Bangladesh (BGB) and Ansar, have already been deployed in the city corporation area.
A total of 29 platoons of BGB, 58 teams of RAB, 57 mobile forces and 20 striking forces of police will perform their duties during the elections.
The election poses a major challenge for the Election Commission after it drew a lot of flak over its role in the Khulna City Corporation polls last month.
For the first time the EC has taken an initiative to take immediate steps to prevent untoward incidents during the voting. The presiding officers will inform the EC Secretariat about overall situation of their respective voting centres through SMS in every two hours. The commission will take necessary measures on the basis of presiding officers' SMS immediately, BSS reports quoting EC sources.
Besides, EC teams in plainclothes will monitor the polling situation and activities of the election officials at every station. They would interfere in the polls immediately, inform the Returning Officer (RO) and inform the EC, if any irregularities take place in the polling stations.
The EC has also decided to use electronic voting machines at six polling stations in the election.
Gazipur district Deputy Commissioner Dr Dewan Mohammad Humayun Kabir told BSS that a total of 67 executive magistrates and 19 judicial magistrates will perform duties across the city corporation area from June 24 to 27.