-Ad-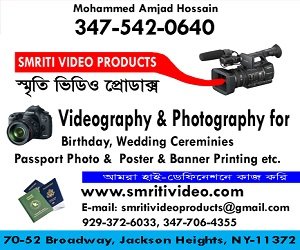 Hindustan Surkhiyan Desk:BNP will decide on the upcoming general election after observing the city corporation elections to Rajshahi, Barisal and Sylhet, the party's senior leader Moudud Ahmed said today.
"If elections to the three city corporations are held like Khulna and Gazipur style than we will decide whether we will join the next general election under a political government," BNP Standing Committee Moudud said.
Speaking at a discussion at the National Press Club in Dhaka this noon, Moudud said no election is held in a free and fair manner under a political government and that has been proved authentic through the Khulna and Gazipur city elections.
"We want to prove the facts and therefore we are taking part in the three city corporation elections," Moudud cited cause in participating in the local body elections.
Terming the Election Commission as loyal to the government, the BNP leader said the constitutional body has utterly failed to conduct polls neutrally and independently.
He blamed the government for prolonging BNP Chairperson Khaleda Zia's release from jail and said Bangladesh's politics will take into a new turn when the BNP chief will come out.