-Ad-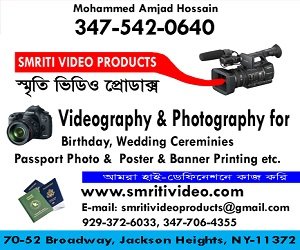 Hindustan Surkhiyan Desk:The High Court is set to pass orders on three separate appeals in connection to Zia Orphanage Trust corruption case on Sunday, in which BNP Chairperson Khaleda Zia has been sentenced to five years' imprisonment.
One of the three pleas was filed by the Anti-Corruption Commission (ACC) seeking an increase to Khaleda's jail sentence and two others by convicts Qazi Saleemul Huq alias Qazi Kamal and Sharfuddin Ahmed seeking acquittal of the charges of the case.
The appeals have been included in Sunday's cause list of the HC bench of Justice M Enayetur Rahim and Justice Md Mostafizur Rahman for order.
The HC bench may tomorrow fix a date for holding hearing on the appeals, ACC lawyer Advocate Khurshid Alam Khan told The Daily Star.
Following an application submitted by the ACC, Chief Justice Syed Mahmud Hossain on Thursday asked the HC bench led by Justice Enayetur Rahim to hold hearing on the appeals analogously.
The same HC bench recently fixed July 3 for hearing the appeal of Khaleda challenging the lower court verdict on her in this case.
Earlier, the HC bench led by Justice Enayetur Rahim on March 12 granted four months' bail to Khaleda in this case, accepted the appeals of Khaleda, Saleemul and Sharfuddin for their hearing and stayed their fines.
Following the ACC's petition, the HC on March 28 issued a rule asking Khaleda and the government to explain why her jail sentence in Zia Orphanage Trust graft case should not be extended.
On February 8, the Special Judge's Court-5 of Dhaka sentenced Khaleda to five years' rigorous imprisonment after finding her guilty in the graft case.
The court also jailed her elder son Tarique Rahman, now the acting chairman of BNP, and four others for 10 years and fined them Tk 2.1 crore, saying all the six convicts would have to pay the fine in equal amounts.
The four other convicts are Qazi Saleemul Huq, an ex-BNP MP from Magura;  Sharfuddin Ahmed, a businessman; Mominur Rahman, a cousin of Tarique; and Kamal Uddin Siddique, former principal secretary.
Of them, Mominur and Kamal are on the run while Salimul and Sharfuddin were sent to jail on February 8. The sentence of the fugitives will be effective from the day of their arrest or surrender.
The ACC filed the case with Ramna police in July 2008, accusing the six of misappropriating over Tk 2.1 crore that came from a foreign bank as grants for orphans.