-Ad-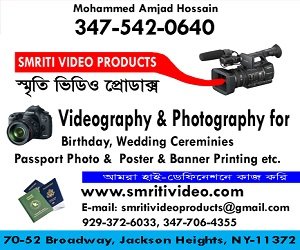 Hindustan Surkhiyan Desk:Prime Minister and Awami League president Sheikh Hasina today urged her party leaders and workers to make the party stronger by increasing its popularity at the grassroots level as no party other than Awami League can change the lot of the people.
"Awami League is the only party in the country which can change the lot of the people. So, the party must be made stronger, reinforcing its popularity among the rural people," she told AL grassroots leaders, seeking support to build Bangladesh as a country dreamt by Father of the Nation.
She urged the party leaders to highlight before the people the development projects and programs taken by the government over the years for their welfare.
She also sought their support for effective functioning of the community clinics and school feeding programs to allow people to get a better life.
Addressing a special extended meeting of Bangladesh Awami League at Ganobhaban here today, Sheikh Hasina termed the party her family and said, "I want to make the country prosperous though fulfilling the dream of the Father of the Nation, and you can be the architect of shaping the dream."
The extended meeting is being held in the second phase participated by grassroots level leaders of the party from Chittagong, Rajshahi, Sylhet and Barisal. The first phase was held on June 23, 2018. The next phase meeting of the grassroots level will be held on July 7, 2018.
Awami League General Secretary Obaidul Quader delivered welcome address while Publicity Secretary of the party Dr Hasan Mahmud and Deputy Publicity Secretary Aminul Islam conducted the meeting.
Office Secretary Abdus Sobhan Golap placed references of condolence after the proceedings of the meeting began with recitation from holy books of various communities.
One minute silence was observed in memory of Father of the Nation Bangabandhu Sheikh Mujibur Rahman, his family members killed on August 15, 1975, four national leaders, martyrs of different political movements, deceased Awami League leaders across the country as well as noted personalities at home and abroad.
The prime minister urged the aspirants of next general election for shunning all conflicts and propaganda against one another and work together to ensure victory of the 'Boat' in the next general election, whoever gets the party ticket in their constituency.
Sheikh Hasina said Bangladesh's economy is now strong enough to implement 90 percent of its annual budget from its own resources. Needs of every district, upazila and union were given priority while preparing the annual budget, she said.
The prime minister said Bangladesh is now on the road of prosperity which has been possible for her government's relentless and sincere efforts to take forward the country to the specific goal.
"Our politics always revolve round the only dream to free the rural people from poverty and provide them with a prosperous life," she added.