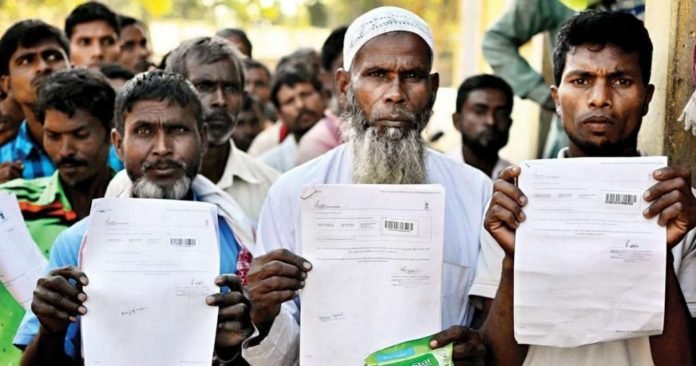 -Ad-
Hindustan Surkhiyan Desk:The Supreme Court on Tuesday pulled up Assam's NRC coordinator and the Registrar General of India for speaking to the media and said it could have sent them to jail for contempt. The top court also restrained them from interacted to the media in future without its approval.
A bench comprising justices Ranjan Gogoi and R F Nariman termed as "most unfortunate" the statements made by Assam National Register of Citizens (NRC) coordinator Prateek Hajela and RGI Sailesh to media on the issue of dealing with claims and objections of those who have been left out in the draft NRC.
"Are you in any manner concerned with the claims and objections to be made… What have you said in newspapers and tell us how are you concerned with that," a visibly angry Justice Gogoi told the officials and asked them to read the news reports in the court.
"Don't forget, you are the officers of the court. Your job is to comply with our directions. How can you go to press like this," the bench said adding that, it could have sent both of them to jail.
"We should be holding both of you guilty of contempt and sending both of you to jail. Whatever you say they all reflect on us," the bench said.
It said that it could have taken a "sterner view" of the matter but was letting them of keeping in mind the future task of preparation and publication of final NRC of Assam.
The court told Hajela that he was first an officer of the court and should not have spoken to media about the NRC.
"It is most unfortunate on your part as well as the RGCC. Your job is to prepare the final NRC. Your job is not to go to press holding brief for somebody," the bench said.
Hajela said that he had consulted the RGI and talked to the media to dispel apprehensions regarding dealing of complaints. However, they tendered an unconditional apology to the bench.
The court reminded RGCC Shailesh that on an earlier occasion too he was warned by the court on his actions vis-a-vis preparation of the NRC.
The NRC draft in Assam was as published on July 30 featuring 2.9 crore names out of the total 3.29 crore applicants in Assam. The names of 40.07 lakh applicants, however, did not find a place in the historic document.
Ever since the NRC draft was released, the opposition parties started targetting the Narendra Modi government accusing it of doing "vote bank" politics ahead of 2019 general elections.
West Bengal Chief Minister Mamata Banerjee has opposed the NRC in Assam, saying it will lead to "civil war and bloodbath in the country". She said the "Indian citizens have become refugees" in their own land because of the NRC draft.