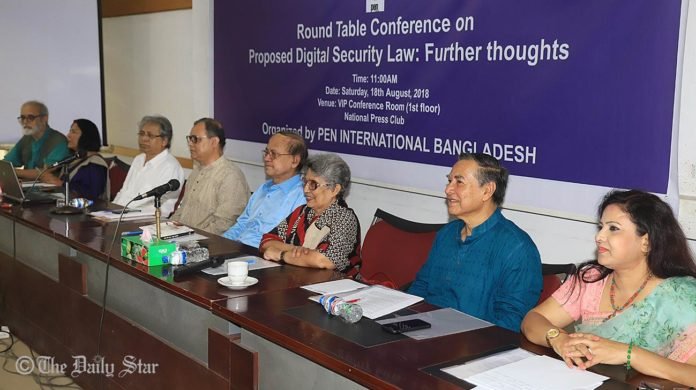 -Ad-
Hindustan Surkhiyan Desk:Journalists, authors and rights activists today expressed their deep concern over the proposed Digital Security Bill 2018, saying that the freedom of press and expression would shrink if the bill is passed.
Once the bill is passed in the parliament, it could be used to greatly squeeze people's freedom of thoughts and their rights to express opinion on different media including digital one, they said.
Speakers came up with the remarks while addressing a roundtable discussion today on "Proposed Digital Security Law: Further Thoughts" arranged by Bangladesh chapter of PEN International, a worldwide association of writers, at Jatiya Press Club in Dhaka.
The Digital Security Bill, 2018 was placed in the parliament on April 9 amid growing concerns from different quarters including journalists and right bodies.
Later, Parliamentary Standing Committee on Post, Telecom and ICT has been given time to place a report before the House after scrutiny of the proposed bill.
On May 22, Editors' Council, an organisation of editors of the country's national dailies,  Bangladesh Federal Union of Journalists (BFUJ) and Association of Television Channel Owners (ATCO) in their maiden meeting with the parliamentary standing committee voiced concern over section 8, 21, 25, 28, 29, 31, 32, and 43 of the proposed law.
They also unanimously said several sections in the proposed law have ambiguity and loopholes, which should be addressed. Otherwise, there will be ample scope for its misuse, they said.
Taking part in the discussion, Mahfuz Anam, Editor and Publisher of The Daily Star, said he agrees with the government's initiative to formulate a Digital Security Law.
However, he said that people's freedom of thoughts and expression and liberty of the mass media will be hindered severely if significant changes in the proposed Digital Security Law are not ensured.
"Rumour spreads out when the space for right to express opinion gets smaller. It is seen that a society gains overall improvement when its people can express their opinion freely," Anam said.
BFUJ President and Ekushey Television Chief Executive Officer Manjurul Ahsan Bulbul said they learned that amendments would be made in 11 clauses including changing the act's title and reducing "excessive punishments" for offenses in some clauses before its enactment in the parliament.
He said that he is still concerned over the proposed act in protecting journalists because many journalists have already been affected by the controversial Section 57 of the Information and Communication Technology (ICT) Act.
One major concern of journalists was over Section 32 of the proposed act as the Section 57 has been "covertly" kept in it, he said.
However, the parliamentary committee has assured that the clause will not remain as it is now, he added.