-Ad-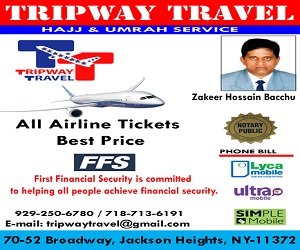 Hindustan Surkhiyan Desk: Ms. Sadia Faizunnesa, Consul General of Bangladesh in New York called on Ms. Bitta Mostofi, Commissioner for International Affairs on 28 August 2018 at her Office (253 Broadway, New York). Commissioner Mostofi warmly welcomed and congratulated Ms. Faizunnesa for assuming the post of Consul General of Bangladesh in New York. Ms. Faizunnesa also congratulated Ms. Mostofi on her appointment as Commissioner for Immigrant Affairs of the Mayor's Office.
Consul General Ms. Faizunnesa thanked the Commissioner for extending continuous support of Mayor's Office to the Bangladeshi-American community living in New York City. Given the growing number of American-Bangladeshi in New York City, Consul General highlighted that the American-Bangladeshis have a great sense of belonging to New York City. Consul General also highlighted that people from Bangladesh are hard-working, and respect the laws and regulations of the host country. She sought cooperation of the New York City Mayor's Office to enhance the cultural activities of American-Bangladeshi in New York.
The Consul General and the Commissioner discussed about how the Bangladeshi community can be benefited through free English learning courses offered by the Immigrant Office which will eventually help them to the citizenship exam. The Consul General assured the Commissioner of all possible assistance for the welfare of the Bangladeshi-American community.
Ms. Chowdhury Sultana Perveen, Counsellor and Head of Chancery and Mr. Md. Shamim Hossain, First Secretary were present during the meeting.