-Ad-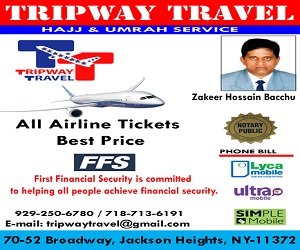 Hindustan Surkhiyan Desk: Congress has left the nation's economy on a land mine said, Prime Minister Narendra Modi, during the launch of India Post Payments Bank (IPPB) in New Delhi on Saturday.
Talking about Non-performing Assets (NPA) and bank loans sanctioned to big defaulters, Prime Minister Narendra Modi said, "Before 2014, every rich person requiring loan would get it easily by making some influential people call the banks. Millions and billions worth of loan has been given in this way. This phone banking facility of Congress and its influential people had harmed nation much. Bank officials were also appointed by these very people hence the banks never declined their approach. Despite knowing well that loaned money would not return, the banks still gave such loans. The people, who were involved in this scam, knew well that they will be caught. Hence the data of such loans was never recorded honestly and the nation was misled".
Speaking further on the issue, he added, "When we came to power we asked banks to provide accurate data of the amount which has been loaned. The country will be astonished to know that the amount of money stuck with defaulters, which was being claimed to be around 2 Lakh crore was actually 9 lakh crore. Congress has left the nation's economy on a land mine. If this had been exposed during that period, the economy could have crashed because of the shock. Hence we worked day and night to bring the country out of this situation."
Talking about the corrective steps being taken by his government in this regard, he said, "In last 4-4.5 years, we have reviewed all loans amounting more than 50 crores and are ensuring that terms of a loan are strictly enforced. Fugitive economic offender's bill is ensuring that properties of bank defaulters are auctioned and the process has already started. We have started the recovery of NPA. We have initiated action against the biggest 12 defaulters who were given loan before 2014."
He also added that incumbent government has now neutralized the landmines on which the country's economy was placed by Congress.
He also insinuated towards the bias of banking system for high and mighty, before 2014 and said, "We have brought banks to the doorstep of poor and needy. Four-five years back the situation was such that maximum money of Bank was reserved for a counted number of people who were close to a particular family. From 1947 to 2008, all banks of our country had only loaned a total amount of 18 Lakh crore. However, in the next 6 years, the amount reached 52 lakh crore"
The Prime Minister also highlighted the changing dynamics of banking system under the present regime and said, "A new change has come in Country and the culture is changing, we have made such web of laws that defaulters' are running behind banks to make payments. We have changed the condition and direction of the Indian banking system. Now the poor will get a loan from banks through Postmen. Jan Dhan accounts for 32 crore poor people have been opened."
Modi also underlined the recently released GDP growth figures and said, "On one hand Indian sportsperson have given the best ever performance at the Asian Games 2018, on the other hand, our country has got a medal because of the GDP figures that have come out yesterday. 8.2% GDP growth brings forward the image of new changing India. Such positive outcomes are the result of right intent and direction"
He also reiterated government's commitment to bring back loan defaults and said that his government will bring back every penny that has been loaned out to defaulters.
Meanwhile, Prime Minister Narendra Modi also termed IPPB as one of the biggest reforms and said that it now joins the list of transformative initiatives such as GST, Aadhar, Digital India among others. He said that his government believes in reform, perform and transform.
Elaborating about the salient features of IPPB he said, "Through India Post Payments Bank (IPPB) we will reach to every nook and corner of the country. Bank and banking services will be available at every person's doorstep. IPPB will bring a big change in social structure and Indian economy. Through this initiative, we are bringing bank to the doors of poor and villagers. IPPB branches are being launched in 650 districts of India. The postman who delivers our letter will now act as a moving bank. It is being launched today at more than 3000 places in India. This new facility of New India will get a boost from the telecom sector as well."
Emphasizing on the credibility of the Postal system he said, "There might have been times when people could have lost trust in Government but they had never lost trust in Postman. The people who are familiar with the village lifestyle would know that decades ago when a Postman would travel between villages, even thieves and dacoits would not bother them. It is because everyone knows and realizes the significance of stuff that they carry such as a money order for some poor mother. Previously the watches weren't available readily in villages. Elders would sit outside the village and keep enquiring about the arrival of the postman. It is because the arrival of a postman in a particular village would make them know about the time of the day. This shows us how punctual a postman would be. Technology has changed a lot of things but the faith and belief that people have in letters remain unchanged."
Explaining the role of a postman in society, the Prime minister said, "Post office and postman have been a significant part of our life, society, books, films, songs and folktales. The songs depicting the arrival of a postman with letters have been close to people's hearts for many years. From now onwards a postman will not only bring post but also bank with him. Post department work has increased since after I took charge. I receive hundreds of letters every day. People write the letter only when they have faith. For my 'Mann Ki Baat' address I receive thousands of letters every month. When I read those letters it feels like I am directly listening to the sender. The approach of our government is to keep moving with time. We believe in changing with time and we believe in accepting technology."
Talking about the challenges posed by technology in front of the traditional postal system, he asserted, "Technology posed a challenge in form of postal department but we changed that challenge into an opportunity. Indian Postal Department has more than 1.5 Lakh post offices and more than 3 Lakh postmen. By connecting such extensive network with technology our government has started the biggest initiative to serve people. Now the postman has a Smartphone and a digital device. IPPB will enhance the digital payments and banking system."
The Prime Minister further spoke about facilities that IPPB will provide, he said, "Through IPPB people can easily transfer money, pay water-electricity bills and it will also offer the opportunity of investment and loans. All these facilities will be provided now at your doorstep by the postman. It will not only act as a bank but would soon become a trusted partner of a large number of people. With such extensive network in villages, IPPB will prove to be extremely beneficial for farmers."
The Prime Minister was speaking at the IPPB launch ceremony being held at New Delhi's Talkatora stadium. Before the speech, he went through a digital exhibition about the post payments bank and also got his account open with it. (ANI)
This story has not been edited. It has been published as provided by ANI