-Ad-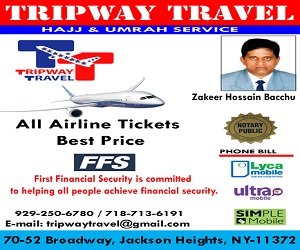 Hindustan Surkhiyan Desk: BNP today called upon all to form a greater national unity in a bid to unseat the ruling party from the power to save the country's democracy and sovereignty.
Terming the present government autocratic and undemocratic, BNP Secretary General Mirza Fakhrul Islam Alamgir came up with call while addressing a rally in front of the party's Nayapaltan central office in Dhaka this afternoon marking the party's 40th founding anniversary.
"From now on, there is no disunity among us. Please come forward to form a greater national unity to oust the autocratic and undemocratic ruler to restore people's government in the country," Fakhrul said.
During the meeting, Fakhrul also placed six-point demands including immediate and unconditional release of the party's imprisoned Chairperson Khaleda Zia and its other leaders who are now behind bars in connection with "politically motivated cases".
Fakhrul said the prime minister will have to resign before the announcement of the schedule for the next general election in late October.
The current parliament will have to be dissolved and the army will have to be deployed during the election, he said.
Apart from these, the present Election Commission will have to be reconstituted for holding the next general election in a free, fair and inclusive manner, the BNP leader demanded.
While addressing the rally, several senior leaders of the party also equivocally demanded resignation of Prime Minister Sheikh Hasina and Chief Election Commissioner KM Nurul Huda's for holding the next general election in a free, fair and credible manner.
The next general election will have to be held under a non-party neutral administration for restoration of democracy in the country, BNP Standing Committee Member Goyeshwar Chandra Roy said.
Like him, several senior leaders including BNP Standing Committee members Khandaker Mosharraf Hossain, Moudud Ahmed, Jamiruddin Sircar and Mirza Abbas equivocally raised the demand at the rally.