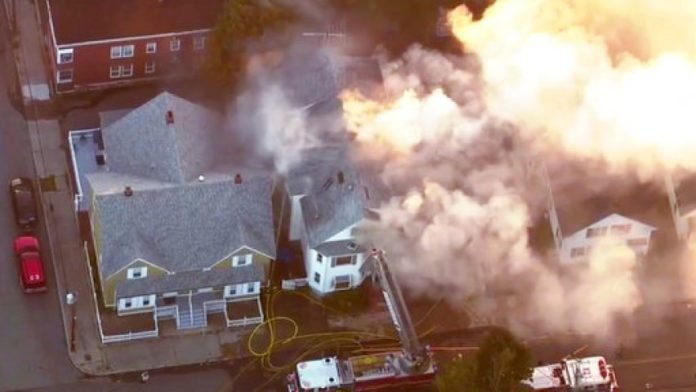 -Ad-
Hindustan Surkhiyan Desk: Mass evacuations were underway from three towns north of Boston after over 70 reports of suspected gas explosions, fire and smell of gas.
As per reports one person died while 10 people have been injured in the series of fire while one is critically injured.
Three towns near Boston were rocked with a dozen incidents of fire and explosions. The explosions have apparently been triggered by a rupture in a natural gas pipeline on Thursday. As per reports, police responded to 70 reports of fire and related incidents, after which a mass evacuation of people has been prompted.
As per foreign media reports, the blasts which engulfed several buildings in the region left scores of buildings in a damaged state. Firefighters from about 50 departments dashed from one site to another for hours to douse the fires. Utility crews shut off gas and electricity supply in the area to prevent further blaze.
As per reports, 'over-pressurisation of a gas main' belonging to Columbia Gas triggered the series of explosions.
In a release dated Thursday the Columbia Gas company had said it would "be upgrading natural gas lines in neighborhoods across the state, including the area where the explosions occurred."
The mayor of Lawrence requested that all those living in the southern zone of his town leave their homes ahead of the planned power shutdown.
Police vehicles drove up and down the streets, telling people to immediately vacate their homes.
As per reports, the hospital where the injured are admitted said that the cases range from smoke inhalation to traumatic blast injuries.