-Ad-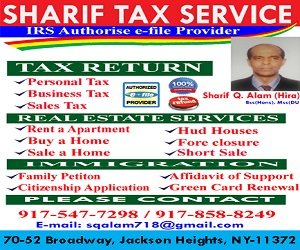 Hindustan Surkhiyan Desk: Nigeria can learn a lot from Bangladesh in the field of agriculture". This was said by Senator Heineken Lokpobiri, Ph.D, Honorable Minister of State, Federal Ministry of Agriculture and Rural Development of the Federal Republic of Nigeria when H.E. Mr. Md. Shameem Ahsan,ndc, Bangladesh High Commissioner to Nigeria called on with him at his Office on 18 September, 2018.  At the outset, the High Commissioner conveyed greetings and best wishes to the Nigerian Minister of State on behalf of the Honorable Minister of Agriculture of Bangladesh. During the courtesy call on, held in a very cordial atmosphere, both sides expressed their keen desire to strengthen and expand existing cordial bilateral relations particularly in the fields of agriculture and trade & commerce. The High Commissioner narrated the tremendous achievements Bangladesh made in various sectors under the dynamic leadership of the Honorable Prime Minister Sheikh Hasina.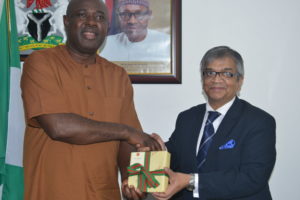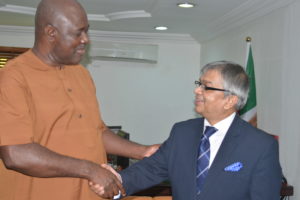 Both the Nigerian State Minister and Bangladesh High Commissioner noted that there are huge potentials to forge stronger bilateral relations specially in the field of agriculture being a vital & major sector in both the countries. It is pertinent to mention it here that Nigeria with its population of about 200 million is the largest economy in Africa and 6th largest producer of oil in the world.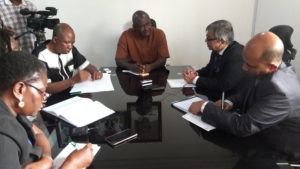 High Commissioner Shameem Ahsan informed the Minister that signing of the proposed Memorandum of Understanding (MoU) on cooperation in the field of agriculture, which is lying with the Nigerian side, will go a long way in forging closer relationship between the two friendly countries. Nigerian Minister welcomed the proposal of Bangladesh. He was highly appreciative of the impressive achievements Bangladesh made in the field of agriculture particularly by locally inventing varieties of seeds of rice. Mr. Lokpobiri was deeply encouraged to learn that Bangladesh with its small geographic size and with a big population of 160 million people is self-sufficient in food production. Bangladesh High Commissioner expressed hope that Bangladesh will participate at the upcoming mega event Agri-Tech Nigeria 2018 which will be held on 20-22 November, 2018 while mentioning that it will help Bangladesh showcase her impressive agricultural achievements before the international audience.  At the end of the meeting, the High Commissioner handed over a copy of the book "The Unfinished MEMOIRS" authored by the Father of the Nation Bangabandhu Sheikh Mujibur Rahman to the Minister.
Mr. Mohammad Shah Ekramul Hoque, Head of Chancery of the Mission accompanied the High Commissioner. Press Release