-Ad-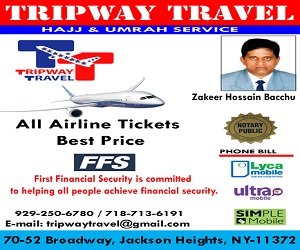 Hindustan Surkhiyan Desk: With the huge role that social media plays in our personal lives, it's no surprise that it also has a big influence on our professional lives.
Employers are increasingly using social media channels to screen potential new employees. Whether you're an avid user of social media or not, it's likely to play a role in your job search.
Not only are companies using social media as a way to promote externally or to do background checks on potential employees but it is also an effective tool to manage staff internally and to drive retention. Platforms such as Twitter, LinkedIn and Facebook are no longer simply places to post holiday photos and connect with old friends. They have become a way for people to present a carefully curated profile of a well-rounded professional.
Here are some tips on how to utilize social media to your benefit on your quest for a new role:
More than a third (37 percent) of recruiters use social and professional media as their number one source for finding talent. Does yours show that you're an expert in your field? Do you share regular, industry-related content? It's not just about ensuring your job title and contact details are on all your social profiles – it's about how you position yourself to others.
-Consider LinkedIn as your new resume
Almost every recruiter on the planet (97 percent) uses LinkedIn to find potential recruits – what will they find on yours? As a minimum, you should keep your summary and experience sections updated, and your profile photo should be a professional looking headshot. Along with the profile, try to be active on LinkedIn. Like and share insightful, industry-related content and engage with others in your field with comments and join in on other discussions.
-Be mindful on Facebook, Instagram and Twitter
Everyone loves to use Facebook, Instagram and Twitter as a way to interact with friends – but if you're not careful with your privacy settings, anyone could be seeing what you post and your comments on other posts. And while your friends might love that photo of you partying in Las Vegas, it may not be as impressive to a potential employer.
Of course, you have a life outside of work, and Facebook, Instagram and Twitter are among places to share your experiences. Just ensure your privacy settings keep your personal and professional lives separate. Facebook now allows users to create a following without having to add everyone as a friend and Instagram now has a close friends feature where your posts can be seen only by a selected circle or friends.
Focus on building a following based on useful content that portrays your value to potential employers.
-Forget contact details and forget that job offer
No matter how impressive your social resume is, if hiring managers can't find a way to contact you there will be no job offer. Include at least one way for people to contact you, even if it's a separate email used only for professional purposes. Twenty-nine percent of job seekers have been contacted by recruiters via social media.
-Start a blog to land a job
It's great to share relevant articles across social media to impress recruiters and even better to post something you've written yourself to really show you know what you're talking about. LinkedIn Pulse can be a great way to publish articles to your network and beyond. Publishing on LinkedIn can position you as a thought leader in your industry, if you don't have time to maintain a separate blog.
-Watch your spelling and grammar at all times
You already know that correct spelling and grammar is essential on your CV and cover letter, but it also matters on social media, particularly on LinkedIn. Before you hit publish on any public post, have one more look for any spelling or grammar mistakes. Sixty-six percent of recruiters will be turned off by poor spelling and grammar across your public social media profiles.
-Consider new social platforms
Companies are starting to look at platforms other than the usual LinkedIn, Facebook, Instagram and Twitter for talent, especially if your role requires quite a bit of creativity. Consider using other platforms such as Pinterest or YouTube to showcase your unique talents and interests in a way that doesn't come across in a simple text CV.
-Go social regardless of skill level
Powerful social resumes aren't just for high-level managers. In fact, 87 percent of jobs recruited through social media are for non-management roles. Show your knowledge as an industry expert through what you post on social media.