-Ad-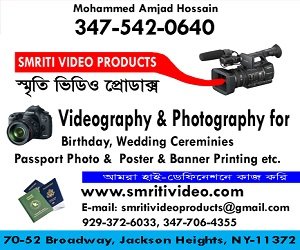 Hindustan Surkhiyan Desk: The authorities arrested Ashiqul Alam, who tried to buy illegal guns and talked to undercover agents about his desire to carry out attacks.
Around the anniversary of the Sept. 11 attacks last year, Ashiqul Alam voiced his admiration for their mastermind, Osama bin Laden, and said he wanted to carry on Bin Laden's legacy of violent extremism, court documents said.
"He did what he is supposed to do," Mr. Alam, 22, said, according to a criminal complaint. "Now it's up to us."
That sentiment, expressed to an undercover law enforcement agent, kicked off a series of conversations about a potential terrorist attack in New York City that ultimately led to Mr. Alam's arrest on Thursday, the authorities said.
Mr. Alam, a green-card holder from Bangladesh who lives in Queens, was taken into custody after trying to buy two Glock pistols with defaced serial numbers from an undercover officer, officials said.
His arrest was the culmination of months of work involving three undercover agents and several law enforcement agencies, which had begun monitoring him last August, the authorities said.
In meetings with undercover agents over 10 months, Mr. Alam discussed the possibility of carrying out suicide bombings in Washington or in Times Square. He said he wanted to kill a government official, shoot police officers with AR-15 assault rifles and fire a rocket launcher at the new World Trade Center, the criminal complaint said.
Despite his intentions, he posed no immediate threat, officials said. The whole time, law enforcement was "monitoring his plans and intervening to prevent those plans from escalating into deadly violence," Richard P. Donoghue, the United States attorney for the Eastern District of New York, said in a statement.
Two law enforcement officials, who asked that their names not be published because they were not authorized to discuss the case, characterized Mr. Alam's statements as "aspirational."
Mr. Alam was formally charged Friday in Federal District Court in Brooklyn with purchasing firearms with obliterated serial numbers. He was not charged with terrorism-related crimes.