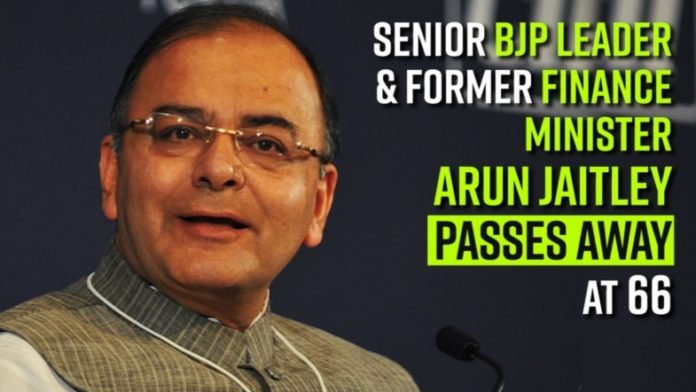 -Ad-
Hindustan Surkhiyan Desk: Lawyer-turned-politician Arun Jaitely, aged 66, passed away at All India Institute of Medical Sciences (AIIMS) after prolonged illness on Saturday. BJP stalwart and former finance minister was admitted to AIIMS on August 9 and was treated by a multi-disciplinary team of senior doctors. Hospital sources had earlier said he was on life support.
One of PM Modi's most trusted colleagues, Jaitely blossomed into a full-fledged politician after establishing himself as one of the top lawyers in the country.
Jaitley slowly occupied a prime place in BJP's hierarchy in the shadow of stalwarts of the time Atal Bihari Vajpayee and L.K. Advani.
Jaitely went on to become the Leader of the Opposition in the Rajya Sabha in June 2009 and led a series of virulent attacks against PM Manmohan Singh's United Progressive Alliance (UPA) government.
The best performing MP failed the people's test in 2014. Jaitley contested Lok Sabha polls from Amritsar but lost to Captain Amarinder Singh.
Jaitley was given charge of two key ministries — Finance and Defence. As he shuffled between the North and South block, he suffered another jolt and this time it was more personal. He got bogged down by health issues.
Despite frequent visits to the hospital and subsequent long recuperating spells, Jaitley continued to be the most important minister in Modi 1.0 until his condition deteriorated further because of multiple ailments.
Despite his medical condition, he would come to the rescue of the Modi government through his periodic commentaries on social media which became a repository of political judgment.
Jaitley remained physically absent from the election campaign in 2019 but kept the pot of his attacks on the Congress boiling through social media and continued his tirade till the very last days.
Despite his ideological doggedness, Jaitley earned respect of his opponents. His right wing mooring did not deter him from making friends from leaders of all political hues.
A Delhi boy (he went to St. Xavier's school in the Civil Lines), he was also the son-in-law of Jammu, having married staunch Congressman and regional stalwart Girdhari Lal Dogra's daughter Sangeeta.