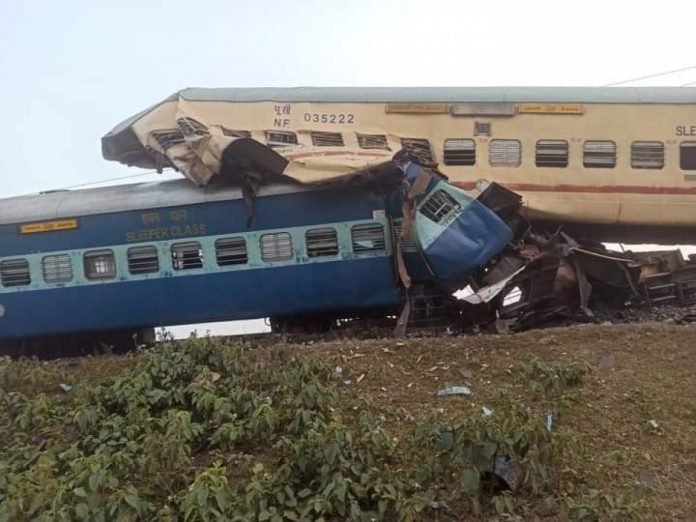 Jalpaiguri, West Bengal: Distressing visuals have surfaced of multiple passengers trapped in the debris after a train accident in North Bengal. 12 coaches of the Guwahati-Bikaner Express train derailed near the Maynaguri town of Jalpaiguri district in West Bengal today. At least five people have been killed and 45 injured, news agency PTI said. Union Railway Minister Ashwini Vaishnaw will reach the accident site tomorrow morning.
At least 50 injured were rescued, as per West Bengal government sources. 10 have been critically injured, sources added. 24 of the injured were sent to Jalpaiguri district hospital and 16 were sent to Moynaguri government hospital. The critical passengers will be shifted to the North Bengal Medical College in Siliguri, New Frontier Railway sources said.
Many passengers are feared trapped inside the derailed coaches and gas cutters are being used to cut open the mangled coaches, according to Railway sources.

A High-level Commissioner Railway Safety inquiry has been ordered in the accident. Chairperson of the Railway Board and DG (Safety), Railway Board are leaving from Delhi to the site of the accident.
Compensation has been announced as ₹ 5 lakh for death, ₹ 1 lakh for grievous injury, and ₹ 25,000 for "simple injuries".
Prime Minister Narendra Modi, who was in the middle of a meeting with chief ministers to review the COVID-19 situation, inquired with West Bengal CM Mamata Banerjee about the accident. Ms Banerjee, who had spoken to the Jalpaiguri district magistrate, briefed the prime minister about the relief and rescue operations.