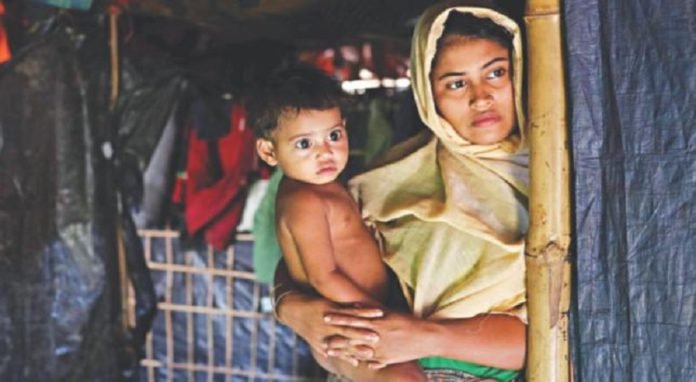 Hindustan Surkhiyan Desk:The repatriation of Rohingyas was supposed to begin last month as per an agreement signed by Bangladesh and Myanmar, but a pre-condition set at the eleventh hour held up the process.
A bilateral repatriation deal inked on November 23 last year had called for the process to begin in 60 days. But during a meeting on January 16, Naypyidaw demanded a family-wise list and Dhaka agreed to provide it.

Bangladesh's passport department has been conducting biometric registration of the refugees as individuals since the early days of influx in late August, but that was not done family-wise.
After the January 16 meeting, the office of Refugee Relief and Repatriation Commissioner began preparing the family-wise list based on the UN Refugee Agency's data and photos of Rohingya families and the biometric registration of the Rohingyas.  That would require a substantial time.
"We are expecting to complete the list of refugee families in a month," Refugee Relief and Repatriation Commissioner Abul Kalam told The Daily Star on Tuesday.
Bangladesh authorities are also building a transit camp, which will be used for accommodating the refugees for a day or two before they are put on transports bound for Myanmar.
"We expect the transit camp to be complete in a month," Kalam said, adding that once such preparations are complete, Bangladesh will hand-over the list to the Myanmar authorities in phases.
After Myanmar verifies the list and sends it back with feedbacks, Bangladesh will arrange the repatriation, making sure the return is voluntary, he added.
Officials and experts say this process of verification and ensuring voluntariness are quite a complex process as the Rohingyas are still fleeing Rakhine State of Myanmar amid allegations of severe human rights violations.
What experts found ridiculous is Myanmar on January 23 announced that they were ready to welcome the refugees and blamed Bangladesh for the delay.
"We are right now ready to receive … we are completely ready to welcome them according to the agreement," Kyaw Tin, minister of international cooperation, told journalists in Naypyidaw, reported AFP.
"We have seen the news that the Bangladesh side is not ready, but we have not received any official explanation," he added.
Ko Ko Naing, director general of Myanmar's Ministry of Social Welfare, Relief and Resettlement, also told Reuters on January 22 they were ready to welcome the refugees, in a sheer contrast to ground realities.
Experts here, however, say such statements are totally baseless and a way of bluffing the world as the Rohingyas are still fleeing from Myanmar and the environment in Rakhine State is not conducive at all to the return.
In the first 10 days of this month, about 1,500 Rohingya fled to Bangladesh.
The Amnesty International in a new report on February 7 said Myanmar security forces were continuing their campaign through forced starvation, abduction of girls and women and sexual violence.
"Myanmar's security forces are building on entrenched patterns of abuse to silently squeeze out of the country as many of the remaining Rohingya as possible," the rights body said.
Prof Imtiaz Ahmed of international relations department at Dhaka University said the statements by the Myanmar authorities are totally ridiculous, and nobody is going to believe those.
Nearly 700,000 Rohingyas fled Myanmar military crackdown since August 25 last, while more than 300,000 others, who crossed over from Myanmar in the previous years, are also staying in Bangladesh.
Bangladesh wants a sustainable solution to the problem that the country has been facing since 1980s, Imtiaz said, adding: "However, Myanmar's attitude has not changed yet."
A COMPLEX PROCESS
Bangladesh is now preparing a list of the Rohingya families and collecting names, gender, birthplace, names of mother and father, date of birth, address in Myanmar, profession, signs, number of family members and a family photo.
"Once the list is prepared, Bangladesh will send the list to Myanmar for verification," Kalam said.
As per the deal, the Rohingyas will have to submit documents to the Myanmar authorities to prove their past residency in that country. The documents include "old and expired citizenship identity cards" or national registration cards or temporary registration cards.
They can also be verified based on other documents issued by the Myanmar authorities or on information indicating their residency in Myanmar, such as address, reference to household or business document, school attendance or any other relevant particulars.
Asif Munier, an independent researcher on migration, said most of the Rohingyas sheltered in Cox's Bazar do not have these identity cards as their houses and properties were burnt.
Even if information like reference to household or business documents or school attendance is considered, the verification in Myanmar will not be very easy.
"Many of their houses and properties have been damaged. So, verification by Myanmar too will take time," he told this correspondent.
As per the agreement signed on January 16, Myanmar will receive only 300 refugees a day and 1,500 a week.
NO GUARANTEE OF CITIZENSHIP
Prof Imtiaz Ahmed said Myanmar has yet to amend its controversial 1982 citizenship law that denies citizenship of the Rohingyas, their right to free movement and other basic rights including healthcare and education.
The minority group, also facing persecution time and again, cannot trust Myanmar authorities anymore. And that's why they are demanding peacekeepers in Rakhine State and full UN involvement in the repatriation process, he said.
Miroslav Jenca, UN assistant secretary-general for political affairs, at a Security Council meeting on February 13, said, "Concerns persisted over threats and intimidation against the remaining Rohingya population from Bamar and Rakhine communities and security forces."
The UN did not have sufficient access to make a meaningful assessment of the situation there, he noted.
UN High Commissioner for Refugees Filippo Grandi says construction of infrastructure to support the logistics of return should not be confused with the establishment of conditions conducive to voluntary repatriation.
"Let me be clear: conditions are not yet conducive to the voluntary repatriation of Rohingya refugees," he told the Security Council meeting, speaking by videoconference from Geneva.
Myanmar should address the issues of Rohingya citizenship, rights of freedom of movement, access to services, livelihoods in Rakhine. It is important to set up a monitoring mechanism in Rakhine for the returning people. However, they have heard nothing about those until now, he said.
Bangladesh on the other hand, says Prof Imtiaz, has engaged all stakeholders — Myanmar, the UN, foreign countries — and deployed its resources for a problem for which Bangladesh is not responsible in anyway.
He also said it is only a conducive environment, safety and citizenship guarantee that can help the Rohingya choose voluntarily to return. Myanmar is ignoring all these aspects and shifting the blame on Bangladesh.
"This is Myanmar's fantastic way of public relations," he said, adding that putting the blame on Bangladesh is nothing but Myanmar's efforts to fool the world.
"If Myanmar thinks the world is blind, they are in the paradise of the fools," he added.