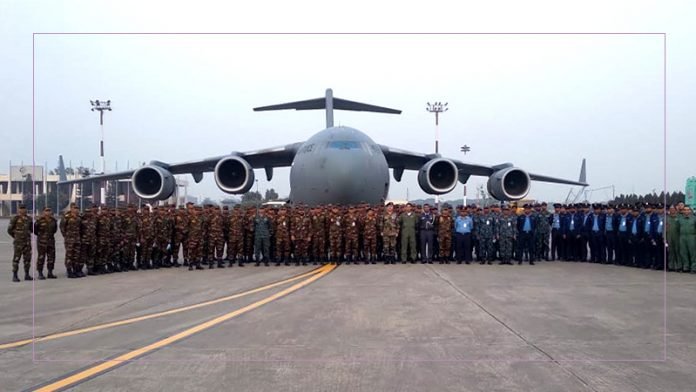 The Bangladesh armed forces will participate in India's Republic Day parade this year scheduled to be held on January 26.
A 122-member contingent of the army, navy, and air force left for Delhi from Hazrat Shahjalal International Airport on Tuesday via an Indian Air Force C-17 plane, according to a press release issued by the ISPR.

This coincides with the 50th anniversary celebrations of the 1971 Liberation War of Bangladesh and birth centenary of Bangabandhu Sheikh Mujibur Rahman.
"This is only the third time in 70 odd years of our Republic that we have a foreign military contingent participate in our parade…so glad that we could get this done in the 50th anniversary of Liberation," Indian High Commission in Dhaka said in a statement.
"The contingent is scheduled to arrive in Delhi on Tuesday and will depart on January 30. Upon arrival, the contingent will be quarantined till January 19," sources told The Hindu.
The contingent, led by Col Md Mohtashim Hyder Chowdhury, includes a marching contingent and a military band.
Indian Air Force (IAF) planes will ferry the contingent to and from Bangladesh. The contingent will be carrying their own ceremonial rifles and the personnel will be in their combat dress during the march past, a second source said.
The contingent will also be visiting places of historical significance in Agra and Ajmer on January 28 and 29 before their departure.
It has been learnt that the Ministry of External Affairs (MEA) has requested the Bangladesh side to include personnel from the army units which took part in the Liberation War, in the visiting contingent. India and Bangladesh have planned a series of events throughout the year to mark the 50th anniversary and Mujib Borsho.❐