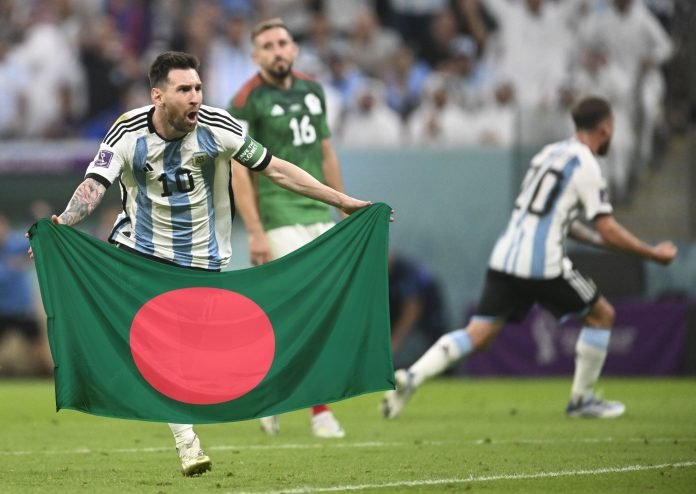 After the goal, Lionel Messi is running to celebrate, with the Bangladesh flag in his hand. Football has no borders, the Argentina Football Association tweeted a similar photo of Messi's victory celebration on Monday night.
Bangladeshi fans are surprised to see the flag of their country in the hands of Messi. First of all, they are struggling with the authenticity of the film. But the image is actually created in Photoshop.

Interestingly, the film did not produce any Bangladeshi fans. As a token of love from the countless Lionel Messi and Argentina fans in Bangladesh, the Argentina Football Association made the photo themselves and shared it on Facebook and Twitter.
Many Argentines are expressing gratitude and love to Bangladesh in the comment box of the picture posted by the Argentina Football Association. Besides, the fans of Bangladesh are admiring their virtual gifts.
An Argentina fan named MA Naeem Mondal shared the photo of Messi holding the flag of Bangladesh on his Facebook and wrote, "These are very big things for the Bangladeshi Argentine fans.
Lionel Messi 🤜🤛 Bangladesh

🇦🇷🇧🇩
That's it. That's the tweet. pic.twitter.com/5QJBYDIgVD

— Liga Profesional Eng (@LigaAFA_Eng) November 28, 2022