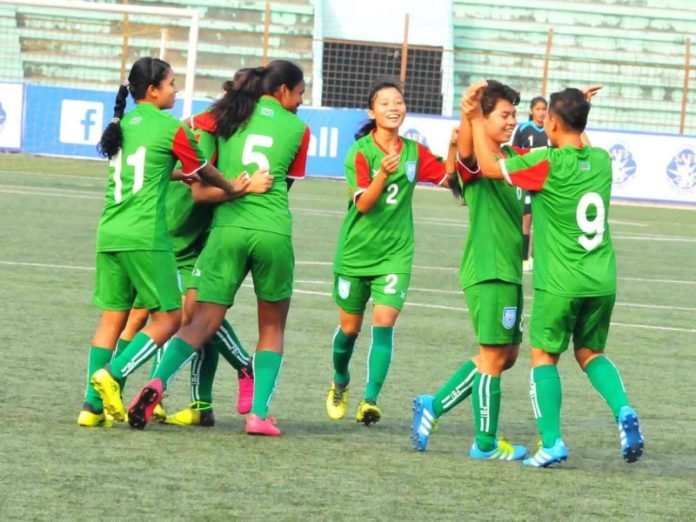 The Bangladesh U-15 girls have kept their promise of attacking football and secured a 3-0 win against Bhutan in the maiden SAFF U-15 Championship 2017 in Kamalapur stadium in Dhaka on Tuesday.

With this win, Bangladesh have secured a place in the finals and their opponent will be India, as the visitors also secured a spot in the finals with a 10-0 win against Nepal on Tuesday's second match.
With one step already in the finals, the Bengal girls will lock horns against India on Thursday 11:30am to complete the group stage matches of the four team tournament.
The red and greens ended their first match against Nepal with 6-0 on the scoreboard and Bangladesh's Tohura Khatun scored a brilliant hat-trick as well.
Tohura's tally might have been blank in the second match against Bhutan, but her cohorts Mosammat Akhi scored two goals and substitute Sajeda Khatun scored another to give Bangladesh the whole 3 points.
Skipper Maria Manda's team pressed on the Bhutanese contingent from the very start of the match and Akhi netted the first goal in the 13th minute of the match.
The lead could have been doubled in the 28th minute but Monika Chakma's ball deflected off the Bhutanese defence line as the visitors put in full effort to block the hosts.
The defence managed to hold the Bengal girls and the first half ended with a 1-0 lead.
Akhi doubled the lead in the second half, when Marzia fired a corner in the 56th minute and the forward beat the goalkeeper with a left-foot volley.
Team Bangladesh was deprived of another goal in the 61st minute when Maria Manda's left-foot cracker returned off the post.
In the 80th minute of the match, the red and greens confirmed their path to the finale with a 3-0 lead as Tohura's substitute Sajeda led a solo attack from the left flank and netted the ball in the far right corner.
This is the second consecutive loss for team Bhutan.
*News Searching By Daily Sun*