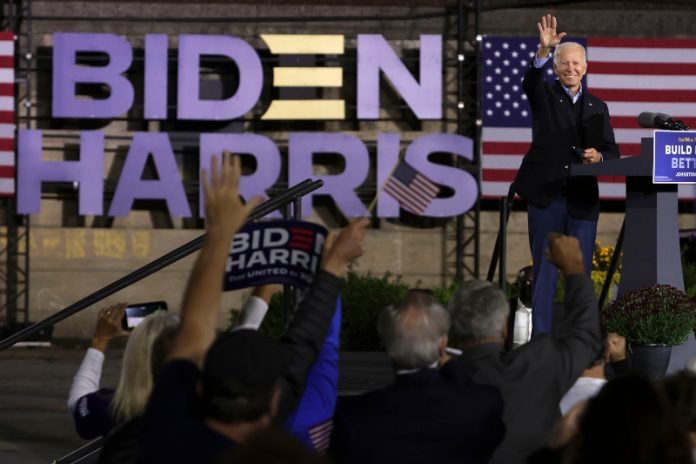 Joe Biden on Tuesday made his most direct appeal yet to older voters, seeking to lock in support from a group that favored President Trump four years ago but has emerged as one of the most significant groups to potentially shift toward Biden in 2020.
At a senior center in Florida a day after Trump visited the state, Biden argued that Trump has turned his back on older Americans, citing the president's widely criticized response to the novel coronavirus, his attempts to repeal the Affordable Care Act and his approach to Social Security and Medicare.

"You're expendable. You're forgettable. You're virtually nobody. That's how he sees seniors," Biden said in a speech at a community center for seniors in Pembroke Pines, during which he wore a mask the entire time.
He later added, "The only senior that Donald Trump cares about — the only senior — is the senior Donald Trump."
Trump is hardly conceding the group to the Democratic nominee. His campaign Tuesday debuted a television commercial seeking to make the case that the president is a stronger advocate for seniors' interests.
The ad suggests that the "far-left health-care plan" embraced by Biden and Sen. Kamala D. Harris (D-Calif.) could threaten private insurance. Biden has proposed enacting a public insurance program that would be optional.
Trump also made a pitch to seniors at his own rally in Sanford, Fla., on Monday — his first return to the campaign trail after his recent hospitalization — and he filmed a recent video aimed directly at older Americans.
With three weeks left before the election and early voting already started in many states, a fierce battle is underway for seniors, who turn out in high numbers and hold the potential to swing a close election. Biden and Trump — both septuagenarians — are competing for support from Americans of their own generation at a moment when a pandemic that disproportionately kills older people has upended daily life and voting across the country.❐