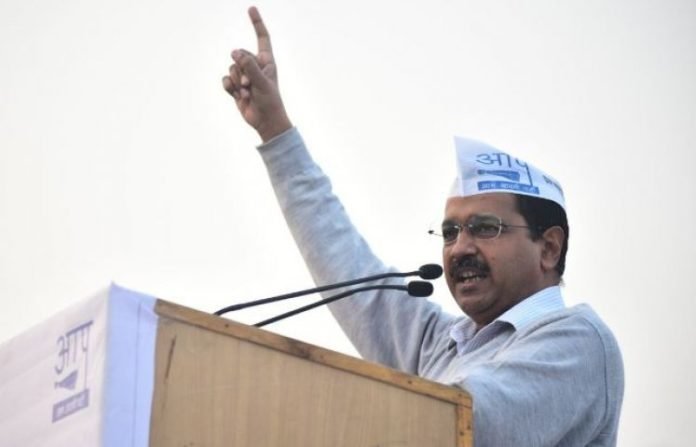 NEW DELHI: Delhi Chief Minister Arvind Kejriwal on Sunday hit out at the Centre after the President accepted the Election Commission's recommendation to disqualify the 20 AAP MLAs.
In a veiled attack at the Centre, Kejriwal termed the disqualification of AAP MLAs as a political vendetta by the BJP.

"They tried to harass us, lodged fake cases against our MLAs, targeted me with CBI raid. But when they found nothing, they disqualified our 20 MLAs," Kejriwal said during a rally in Delhi's Najafgarh.
"I always say that when you walk on the path of truth, hurdles come your way. But In the end, the truth will prevail," he said.
His remarks came after President Ram Nath Kovind approved Election Commission's recommendation to disqualify 20 AAP MLAs on the charges of holding 'office of profit'.
He said the party will now approach the High Court against this "extremely unconstitutional, unethical and biased decision of the EC".
"If required we will go to the Supreme Court. The Constitution is supreme and is the law of the land and has been protected by our Judiciary time and again."
In a tweet from his official Twitter handle, Kejriwal said: "God must have given us 67 seats for some reasons. He is with the Aam Aadmi Party at every step, otherwise this result was beyond our comprehension. Just don't give up the path of truth".
The president on Sunday accepted the Election Commission's recommendation to disqualify the 20 AAP MLAs.
Reacting to the development, senior AAP leader Ashutosh said, "President's order to disqualify AAP MLAs is unconstitutional and dangerous for democracy."
AAP spokesperson Saurabh Bharadwaj said the 'speed' at which President delivered 120 pages order raises suspicion about many institutions.
"Constitutional authorities today are behaving like handmaidens of the Central government. They are expected to behave in a constitutional manner and not as political stooges of their masters who appoint them," Bhardwaj alleged.
Alka Lamba, who is among the 20 AAP MLAs disqualified, said the decision was "painful" and the president should have heard them out before arriving at any conclusion.
"It is unfortunate that the President took the decision in such haste, without giving us chance to speak. It is an act of Centre using constitutional institutions. We have trust on the judiciary as the doors of the High Court and Supreme Court are open to us," Lamba told ANI