Hindustan Surkhiyan Desk:Law enforcers have taken a series of measures to prevent BNP supporters from entering the capital so they cannot gather on the streets centring on tomorrow's expected verdict in a corruption case against Khaleda Zia.
As part of the move, police have already set up additional checkpoints at all the eight entry points to the capital. Also, law enforcers may cut off the capital from the rest of the country to prevent BNP men from coming to the city, police sources said.

The DMP imposed a ban on procession, effective from 4:00am tomorrow until further notice, said a DMP release yesterday, adding it had intelligence about possible subversive activities.
Most of the 35,000-strong forces of the Dhaka Metropolitan Police will be deployed on the streets. Normally, some 8,000 police members are deployed every day.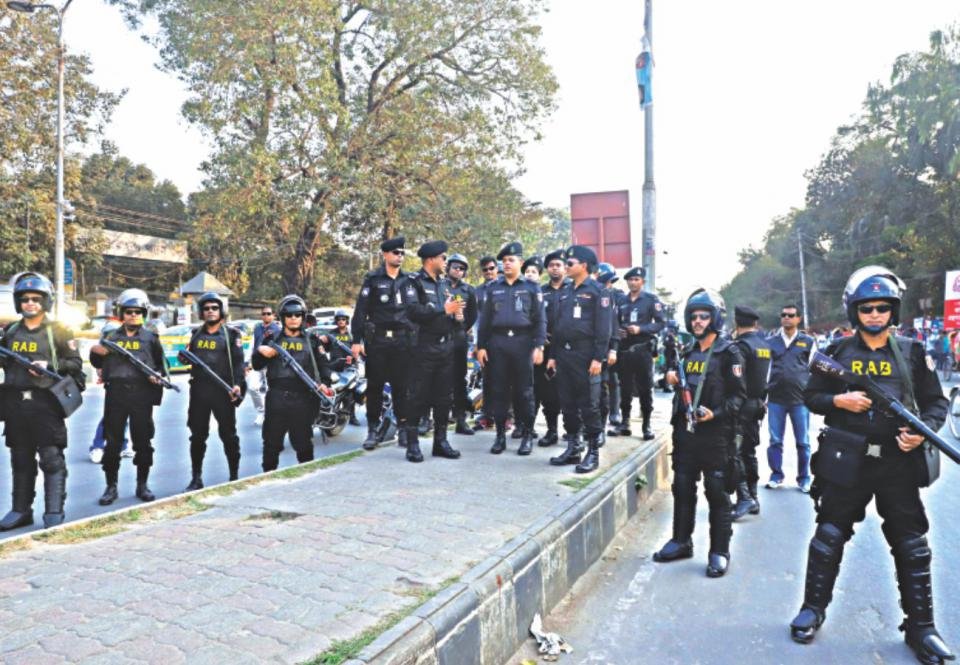 "We will be on the hard line. No one will be allowed to gather or bring out processions on the street," a deputy commissioner of DMP told The Daily Star.
The ruling Awami League has also announced that its leaders and activists will be on the streets to prevent BNP men from carrying out any attack.
An owner of a private bus service on Dhaka-Satkhira route said police instructed them not to rent out any bus for reserve passengers and take steps so that fewer buses ply tonight.
An official of Shyamoli Paribahan, one of the largest private bus operators, said they would not operate any bus tomorrow, although they did not receive any such instructions.
The BNP instructed its leaders and activists to stage peaceful demonstrations in their areas, but a large number of them are expected to travel to the capital ahead of the Zia Orphanage Trust graft case verdict.
Khaleda, her son Tarique Rahman, also BNP's second man, and four others are accused of misappropriating money from the Trust. Khaleda denies the charges.
Police said there will be additional checkpoints at all the eight city entry points at Postogola Bridge, Sadarghat, Abdullahpur Bridge, Dhaur Bridge in Ashulia, Babubazar Bridge, Gabtoli, Jatrabari and Sultana Kamal Bridge at Demra.
Each of these points already has one or two checkpoints, they added.
Ibrahim Khan, deputy commissioner (Lalbagh division) of DMP, said vehicles entering the capital would have to go through security checks so that no one could enter the city with anything that caused destruction.
Residential hotels in the capital have been asked to collect National ID cards and detail information of boarders every day and submit those to detectives.
"We had given a similar instruction about one and a half years ago. Hoteliers are now following it and we have kept them under surveillance," said Ibrahim.
Over the last few days, law enforcers increased surveillance at Sadarghat Launch Terminal and Kamalapur Railway Station so that no one can carry illegal firearms or explosives. Similar measures have been taken at other important places, bus and launch terminals and rail stations, by setting up CCTV cameras. Additional security measures have been taken to thwart any attack at key point installations.
Yesterday, Inspector General of Police Mohammad Javed Patwary instructed all commissioners, range deputy inspector generals and unit chiefs to remain alert so they could prevent violence and subversive activities in their areas.
Earlier on Thursday, the police headquarters (PHQ) wrote to the district police superintendents and unit chiefs to bring under surveillance the opposition leaders and activists with previous records of involvement in subversive acts.
Md Moniruzzaman, additional deputy inspector general of intelligence and special affairs of the PHQ, said they instructed all police units to take stern actions if anyone tried to damage public properties and put people's lives at risk.
SM Jahangir Alam Sarker, police superintendent of Feni, Khaleda's hometown, said they were prepared to tackle any situation.
Khandaker Enayet Ullah, general secretary of the National Road Transport Owners Association, said 15,000-20,000 transport workers would remain standby at different city terminals tomorrow to resist attack on transport.
At a meeting yesterday, they also decided to operate buses even if anyone called hartal or blockade. Buses would be parked in specific areas under police protection, Enayet added.
Meanwhile, law enforcers in separate drives arrested 283 more BNP-Jamaat activists in last 24-hour till 6:00am across the country yesterday, our district correspondents report.