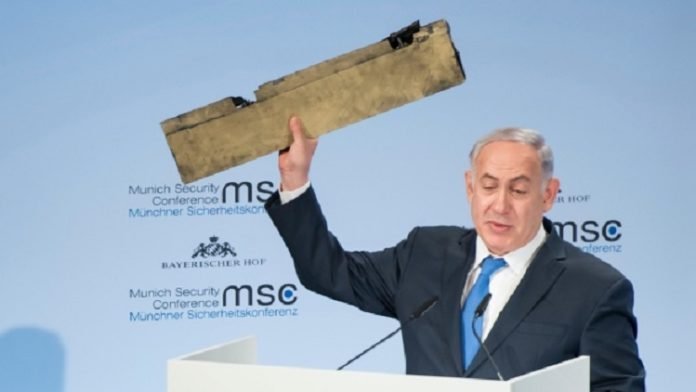 Hindustan Surkhiyan Desk:Israeli Prime Minister Benjamin Netanyahu yesterday warned Tehran over aggressions by what he called Iran and its "proxies" in Syria, while showing what he claimed was a piece of an Iranian drone shot down in Israeli airspace.
Saying he had "a message to the tyrants of Tehran" during a speech at the Munich Security Conference, he warned: "Do not test Israel's resolve."

He brandished a rectangular piece of dark green metal which he called "a piece of that Iranian drone, or what's left of it, after we shot it down."
Israel has said it shot down the drone on February 10 after it entered the country from Syria, and responded with a raid on what it said was the Iranian control systems for the craft in Syria.
It marked the first time Israel publicly acknowledged hitting Iranian targets in Syria since the 2011 start of the civil war there.
During the strikes, one of Israel's F-16 fighter jets was shot down, believed to be the first loss of an Israeli plane in combat since 1982, reported AFP.
Calling Iran's Foreign Minister Mohammad Javad Zarif the "smooth-talking mouthpiece of Iran's regime," Netanyahu said: "Mr Zarif, do you recognise this? You should, it's yours."
Again referring to Zarif, who is scheduled to speak later in Munich, the Israeli leader said: "No doubt Mr Zarif will brazenly deny Iran's involvement in Syria."
"He lies with eloquence."
The Israeli military has claimed the drone was a copy of a US model captured by Iran in 2011, based on an analysis of the drone's debris.
Tensions between the two countries have been building in recent months, with Israel fearing that Tehran is trying to establish a permanent presence in Syria.
Netanyahu said yesterday that Israel would not let Iran obtain a permanent foothold in its northern neighbour. "Through its proxies — Shia militias in Iraq, the Huthis in Yemen, Hezbollah in Lebanon, Hamas in Gaza — Iran is devouring huge swathes of the Middle East," he said.
Meanwhile, US National Security Adviser H R McMaster called on Saturday for more forceful action to halt Iran's development of what he said was an increasingly powerful network of proxy armies in Lebanon, Syria, Yemen and Iraq.
McMaster accused Iran of escalating a campaign to increase its influence in the Middle East by building and arming "Hezbollah-style" proxy armies in Iraq, Syria and elsewhere as it has done in Lebanon, reported Reuters.
thedailystar