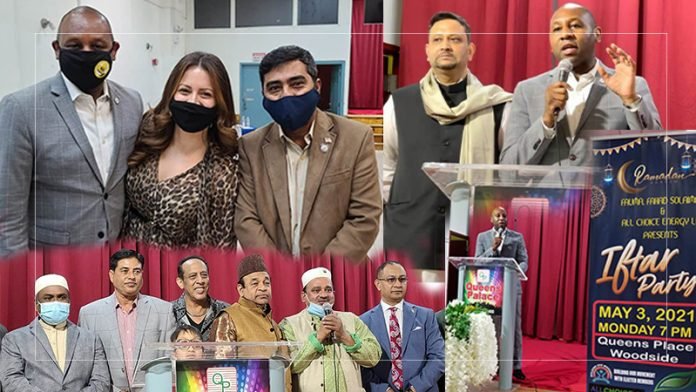 Zahan Ara Dolon: Fahad Solaiman, a mainstream dynamic politician and well-known figure in the community, director of the Jackson Heights Business Association and director of Fauma Innovative and All Choice Energy.
In a very short time, he has been a leader in community and mainstream politics. That is why Fahad Solaiman is enlightening his own rightful place. Fahad Solaiman hosted an Iftar party on May 3 at the Queen's Palace in Woodside. People of all religions, castes and tribes were present at the event. There were mainstream politicians, community and people of different professions.

Fahad Solaiman gave a welcome speech at the beginning of the program. Thanking everyone for attending the ceremony he said, "We live in this country, this is our country now". So, we have to move forward with everyone.
"To move this community forward, we all need to work together " said Donovan Richards, president of Queens Borough. We need more capable leadership like Fahad Solaiman to take the community forward. He wished everyone a blessed Ramadan.
Catalina Cruz wishes everyone Ramadan and Eid in advance. On the other hand, Jessica Gonzalez, as she is coming to the Iftar party, even though she belongs to a different religion, she is fasting today and has Iftar with everyone. She proved that there is no conflict between religions.
Many interfaith mainstream politicians were present at the Iftar gathering, including Assemblywoman Cathelina Cruz, State Assemblywoman Jessica Gonzalez, City Councilman candidate Brent O'Leary, City Councilman candidate Ingrid Gomez, Shekhar Krishna, Queens Borough President Donovan Richards and Editor-in-Chief of Ruposhi Bangla, Shah J Chowdhury.
Also present were Acting President of Bangladesh Society Abdur Rahim Hawlader, General Secretary of Bangladesh Society Ruhul Amin Siddiqui, Treasurer Mohammad Ali, President of Lions Club Asif Bari Tutul, General Secretary Ahsan Habib, Founder General Secretary of North Bengal Foundation Abul Kashem, General Secretary Ashrafuzzaman, Rain, Ahsan Habib of Bangladesh American Business Alliance, Olib Ahmed,
NY Insurance President Shah Newaz and Golden Home Care Director Rano Newaz, eminent physician Dr. Chowdhury Sarwarul Hasan, eminent artist Baby Nazneen, eminent businessmen Ron Haque, Ishtiaq Rumi, Selim Ibrahim, Jackson Heights area president Shakil Mia, Mia Mohammad Dulal, Sound Gear Sayem, Aftab Johnny, Sohail Gazi,
Mohammad Kamal, Mohammad Zaman, Amin Mack, Bapar Humayun Kabir, Ershad Siddiqui, Rasek Malik, Bangladesh Club President Nurul Amin Babu, Community Activist Kazi Shakhawat Hossain Azam, Show-Time Music's Alamgir Khan Alam, eminent legal expert Dr. Rafiq Ahmed, former Press Secretary to the Prime Minister Ashraful Alam Khokon,
Real Estate Businessmen Kamruzzaman Bachchu, Shah Shahidul Haque of World Human Rights, Abdur Rauf Dilip, Rafiqul Islam (71st Street Club), Sirajul Islam Khan, Rafiqul Islam, Mohammad Qayyum, Artist Kamruzzaman Bakul, Anwar Hossain, Chowdhury, Sanal Morshed Khan Apu, Chandra Roy, Maulana Shahidullah, Jatiya Party President Haji Abdur Rahman, Amanat Hossain Aman, Mohar Khan, Syed Mustakim Chowdhury, Enam Chowdhury, Rabu Billah and others.
Mufti Ismail led the prayers on the occasion. He prayed for the souls of those who died in Corona and prayed for the recovery of the afflicted.❐