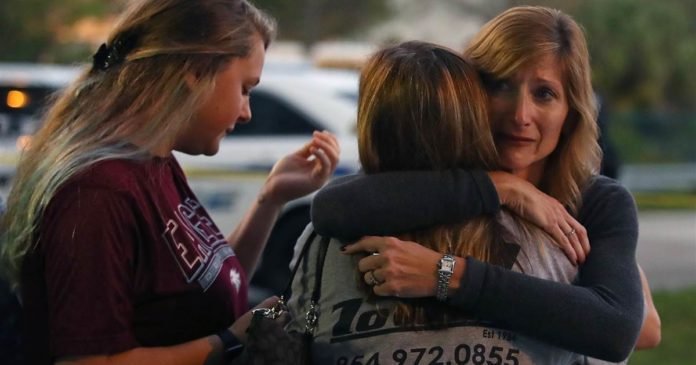 A YouTube user who used the same name as the suspected Florida gunman was investigated by the FBI for a comment boasting about plans to shoot up a school, the agency said Thursday.
The FBI was alerted to the comment but failed to identify the user, said Robert Lasky, the FBI agent in charge of the Miami division. The comment did not include information about timing or location, Lasky said at a news conference.

The suspect in the shooting at Marjory Stoneman Douglas High School, identified as 19-year-old former student Nikolas Cruz, has been charged with 17 counts of premeditated murder, officials said Thursday.
Lasky later explained at a second news conference on Thursday evening that the individual who complained about the comment lived in Mississippi and had no connection to south Florida or the poster, so the FBI division in Jackson, Mississippi, was unable to confirm Cruz's identity.
BuzzFeed News first reported a YouTube user called "nikolas cruz" wrote "Im going to be a professional school shooter" in a comment posted last September on a video uploaded by a Mississippi bail bondsman.
It was not immediately clear why the FBI would not have been able to identify the author of the post if that username was, in fact, his real name.
The bail bondsman, Ben Bennight, reported the troubling comment to the FBI in the fall, a law enforcement official close to the investigation told NBC News. The day after he reported it, agents interviewed him in person, the official said.
And following the shooting on Wednesday, FBI agents in Mississippi and Florida contacted him again to talk about the September incident, the official said.
Bennight expressed disbelief that the accused gunman had commented on his YouTube channel, telling NBC News on Thursday: "Out of all the people in the country, why me? Why my channel?"
He suggested he was not convinced the FBI had dropped the ball, saying he did not know "that there was much they could have followed up with" after getting a tip about a "screen name and a vague comment."
But he added: "I hope people learn that when somebody throws up red flags, that they need to pay more attention to them and not just … scoff 'em off."
Cruz was arraigned on Thursday afternoon and ordered held without bond. He appeared before a judge in an orange jumpsuit, his hands shackled.
After the arraignment, his court-appointed defense attorney, Melisa McNeill, described her client as a "child," adding: "He's sad, he's mournful, he's remorseful, he is fully aware of what is going on, and he's just a broken human being."
Cruz was believed to have been armed during his rampage with an AR-15-style semi-automatic rifle and multiple magazines, Broward County Sheriff Scott Israel said. He bought the .223 caliber rifle legally at a federally licensed gun store in Broward County, several law enforcement sources familiar with the investigation told NBC News.
Photos: Florida school shooting leaves families distraught
He had recently been expelled from the school for disciplinary reasons and was enrolled elsewhere in the district, said Broward County schools Superintendent Robert Runcie.
Investigators were reviewing social media posts from Cruz that Israel described as "very disturbing."
A motive in the shooting remains unclear, but students who encountered Cruz said he talked a lot about having fun with firearms, so much so that some joked that if anyone were to attack the school, it would probably be him.
Cruz "threatened to bring the guns to school multiple times," senior Eddie Bonilla said. Other students, he said, "threw jokes around that he'd be the one to shoot up the school."
Related: Why the AR-15 is so popular in America
There was no indication the gunman had an accomplice or accomplices, federal and local authorities told NBC News.
Authorities have received reports of "copycat threats made today at other schools," Israel, the county sheriff, said Thursday. A private school near the Douglas campus was briefly placed on lockdown Thursday morning after a false alarm.