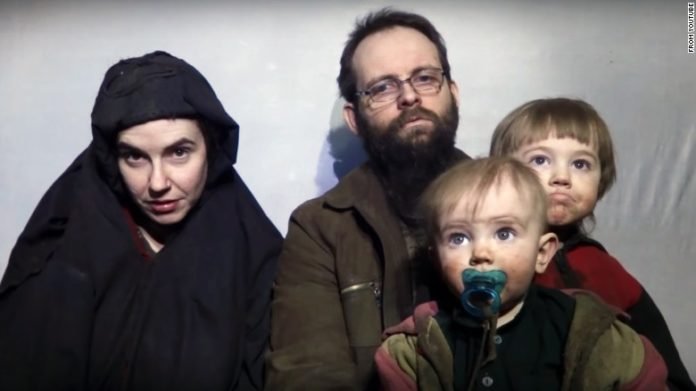 (CNN)A Canadian man who spent five years with his family in militant captivity in Afghanistan was arrested in Ottawa, his lawyer said, on charges including assault and sexual assault.
Joshua Boyle, who
returned to Canada in October
with his American wife and three children, faces 15 charges in connection with incidents alleged to have happened since the family's return, according to court documents.
Though the charges are public record, a court has issued an order that prevents media from reporting information that would identify potential victims or witnesses.
It wasn't immediately clear when Boyle, 34, was arrested. A court hearing Wednesday in Ottawa's main provincial court was adjourned to Monday, when the court could determine whether to set a date for a bail hearing.
The charges, according to court documents, include:

– Seven counts of assault, two counts of sexual assault, two counts of unlawful confinement, one count of causing a victim to take a noxious substance, and one count of uttering a death threat — all against one alleged victim;
– A separate count of assault against a second alleged victim;
– One count of misleading police.
The court documents identify the noxious substance as trazodone, an antidepressant.
Boyle's alleged crimes are said to have happened between October 14 — the day after his family returned to Canada — and December 30, according to the court documents.
Boyle detailed abuse by captors
Boyle's attorney Eric Granger told CNN on Tuesday that he had not seen the evidence against his client, and that this was "typical at this early stage." In addition to banning reporting of information that would identify victims, the court also banned reporting of information disclosed in bail proceedings, as allowed by
Canadian law
.
"We look forward to receiving the evidence and defending him against these charges," Granger said, noting his client is presumed innocent and has never been in trouble before.
Boyle and his wife, Caitlan Coleman, were kidnapped in 2012 in Afghanistan by terrorists from the Taliban-affiliated Haqqani network. Coleman was pregnant, and the couple had two more children during their
five years
in captivity. The couple and their children
were freed
in a mission carried out by Pakistani forces based on intelligence from US authorities.
Upon arriving at Toronto's Pearson International Airport in October, Boyle
told reporters
his captors authorized the killing of one of his children and raped his wife. He did not say whether the militants killed a child, only that his captors were responsible for "authorizing the murder" of his infant daughter. Sources close to the family said Boyle alluded to at least one forced abortion while in captivity.
Details of their harrowing detention made headlines worldwide. The couple met Canadian Prime Minister Justin Trudeau in December and shared images from the visit from their Twitter account, the Boyle Family.
Today was a wonderful experience for my family, and Ma'idah Grace Makepeace seemed truly enamoured. Incidentally, not our first meeting with @JustinTrudeau, that was '06 in Toronto over other common interests, haha. pic.twitter.com/Aj2eVGJoux

— The Boyle Family (@BoylesVsWorld) December 19, 2017
Boyle's brother, Dan Boyle, declined to comment Tuesday. His parents did not return calls Tuesday afternoon.
Boyle spoke of road to recovery
Days after his return,
Boyle told CNN's Paula Newton
the family was doing as well as could be expected. He said he and his wife had gone to Afghanistan to help "those ordinary villagers that live deep inside Taliban-controlled Afghanistan, where no NGO, no aid worker and no government has ever successfully been able to bring the necessary help."
Boyle didn't dispute reports they were also there as tourists, saying, "Nothing is black and white of why you go somewhere."
He said his goal in Canada was to build "a secure sanctuary" for his children and help them "regain some portion of the childhood that they have lost."
Boyle was previously married to the sister of
Omar Khadr
, a Canadian imprisoned for 10 years at the US detention facility at Guantanamo Bay, Cuba, after fighting US troops in Afghanistan.
A senior US official said that shortly after the family's October rescue,
Boyle refused to leave Pakistan on an American military plane
over concerns he could face arrest. Boyle said his family had been delayed due to a medical emergency surrounding one of his children. The family ended up boarding a flight from Islamabad to London, and then flew on to Canada.
*News Searching By CNN*