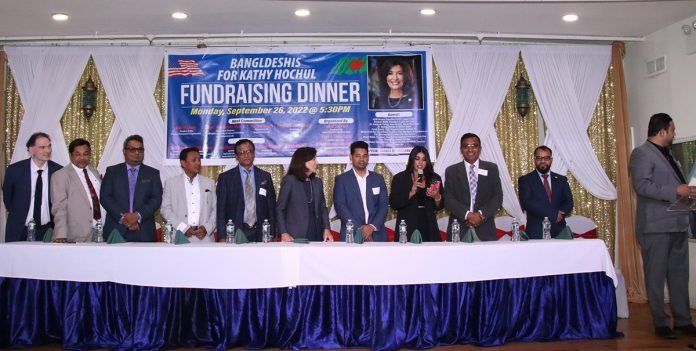 Zahan Ara Dolon: Expatriate Bangladeshis have supported Governor Kathy Hochul in the New York City State Governor election. For that purpose, expatriate Bangladeshis organized a fund-raising event on September 26 (Monday) evening at Gulshan Terrace, Jackson Heights.
Gov. Kathy Hochul is running again for state governor on the Democratic Party's ballot in November. Organizers said about $50,000 was collected at a fund-raising event in her support. New York City Mayor's Asian Affairs Adviser Fahad Solaiman served as moderator of the gathering.

Kathy Hochul, the first female governor of New York, said in her speech that Bangladeshis are talented and dedicated. They are hard-working and have contributed immeasurably to the development of New York. Bangladeshis have already brightened their position in the whole community.
Kathy Hochul said New York still has many problems. I will try to solve them when I win again. Some groundbreaking steps will be taken, especially in the economic field.
She also said that it is important to enter the ballot battle for the sake of one's rights and dignity. People who can dedicate themselves to stopping the recent religious and ethnic hate attacks need to be selected.
Shah Group's co-founder Fauzia Choudhury said in her speech that The Shah Foundation believes in unity. Its motto is, "Let's make this world better together." Today we welcome Kathy Hochul wholeheartedly here. We see you doing the work for us and we are here to give you all the support we can. This is the time when we show the spirit of togetherness. We are and will always be better together.
Rahat Muktadir, CEO of Castle Hill Medical of New York, Physician Chowdhury S Hasan, Fauzia J Chowdhury, Co-Founder of Shah Group, Shahnewaz, CEO of Golden Edge Home Care, Secretary of Jalalabad Association of America Inc. Moinul Islam, CEO of Premium Restaurant Babu Khan, and others delivered their speeches at the rally organized under the banner "Bangladeshis for Kathy Hochul".
AKM Haque, CEO of Haque & Sons; Giyas Ahmed, President of JBBA; Mohammad Alam Nami, CEO of Piran Fashion; Rahman Malik, CEO of Net Cable; Fed Rocky, CEO of Diplomat Group Fashion Inc.; Tax Service President Peer Mohammad; Leader of the Democratic Party Morshed Alam; The Weekly Aajkal correspondent, Abu Bakar Siddique; and Deputy Commissioner of the City Mayor Dilip Chauhan, were also present on the occasion.
The State Governor's election is going to be held in New York City. In this election, the Democratic candidate and the current acting governor of the state, Kathy Hochul, is ahead of her opponent, the Republican candidate, Congressman Lee Zeldin, by 17 % . The election will be held on November 8.
---
Album
---