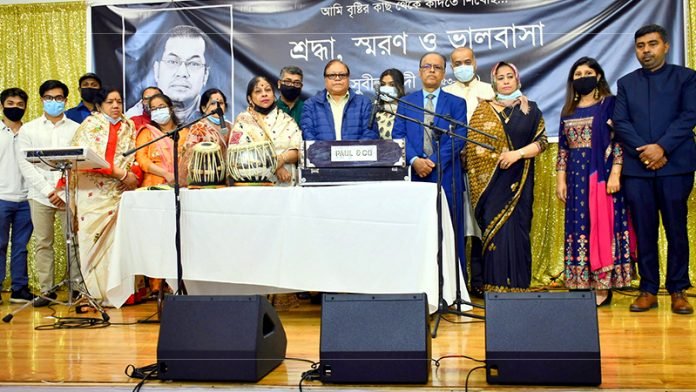 'The magical melody of eternal abstract music!'
New York: In an interview, the late Bengali singer Subir Nandi said, "There is nothing unattainable in my life." And this time, New Yorkers found out that wherever Subir Nandi and his music are present, the people there become rich in a strange way

An unprecedented memorial service was held in New York on May 18, on the second death anniversary of the great vocalist, to pay tribute and love to him. On Tuesday night, New York based television channel Bangla Channel hosted the memorial service at Gulshan Terrace in Woodside. The channel also broadcasts the show from New York.

Prominent New Yorkers attended the ceremony to pay their respects and love to the beloved vocalist. Nur Elahi Mina, First Secretary (Press) of the Bangladesh Permanent Mission to the United Nations, and SM Nazmul Hasan, Deputy Consul General of the New York Consulate and chairman of the Bangla Channel and a New York business personality, AKM Fazlul Haque, Ekushey Padak winner vocalist Rathindranath Roy was present on the occasion.
AKM Fazlul Haque, Chairman of Bangla Channel and eminent businessman delivered the welcome speech on the occasion.
Emigrant singers paid homage to the late artist Subir Nandi by singing his popular and eternal songs. Bachik artists paid homage by reciting poems. There were reminiscences. Rathindranath Roy tells stories about Subir Nandi. Brief speeches delivered by Subir Nandi's family members and his close relatives. Nur Elahi Mina, First Secretary (Press) of the Permanent Mission of Bangladesh to the United Nations, and SM Nazmul Hasan, Deputy Consul General of the New York Consulate spoke as guests.
Jeevan Biswas, President of Udichi, USA, also spoke about the artist. Mosharraf Hossain, director of the New York Literary Academy, conducted the program.
Popular songs of Subir Nandi were sung by Rathindranath Roy, Swadhin Bangla Betar Kendra singers Shahid Hasan, Chandan Chowdhury, Shah Mahbub, Krishna Tithi, Nipa Zaman and others.
Swadhin Majumdar recited a poem about Subir Nandi, by Darpan Kabir, former president of the New York Press Club. The co-founder of Shah Foundation, Hosne Ara Chowdhury and advisor Mahmuda Nargis Haque handed over a check for financial assistance to the family of late singer Subir Nandi.
Shah J Chowdhury, CEO of Bangla Channel and Editor of Ruposhi Bangla and Anuswar, writer, journalist and poet Darpan Kabir, ATN Bangla US Office News Editor Kanu Dutta, Sanjivan Sarkar, US correspondent of Dainik Sangbad and editor of the Sandhan, Gopal Sanyal, community activist, Shubh Roy and Mohammad Hossain Dipu, special correspondent of Bangla Channel were the coordinators of this exceptional program. Tabla player Tapan Modak specially helped to make the music arrangement of the program a success.
It may be mentioned that the legendary Bengali musician Subir Nandi died on 7 May 2019 at the Singapore General Hospital. This eminent musician has sung more than two and a half thousand songs in his long 40 years of music career. He has sung numerous popular songs on radio, television and in movies.
In 1981, his first solo album 'Subir Nandir Gaan' was released under the banner of Disco Recording. Subir Nandi sang his first playback song in 1976 in the film 'Suryagrahan' directed by Abdus Samad. He won five National Film Awards for his playback songs in films. In 2019, the Bangladesh government awarded Subir Nandi the second highest civilian honor, the Ekushey Padak, for his contribution to music.❐
Zahan Ara Dolon