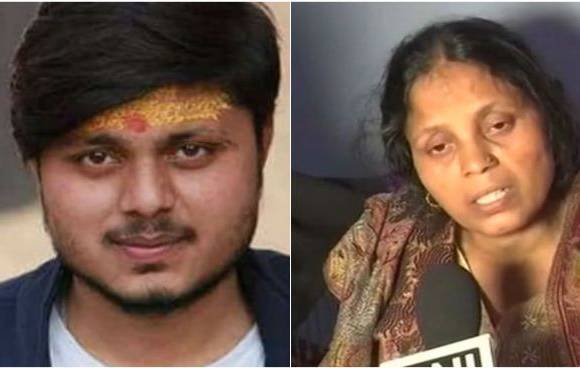 KASGANJ: With four days of sporadic violence and over 100 arrests since Friday, the riot-hit town of Kasganj in Western Uttar Pradesh remained on the edge on Monday. The situation was tense but under control as prohibitory orders remained in place.
The violence that erupted on Friday led to the killing of 22-year-old Chandan Gupta, who sustained bullet injuries in the clashes during a motorcycle rally by the activists of ABVP and VHP.

Family members of Chandan were on Monday offered by the Uttar Pradesh government a compensation cheque of Rs 20 lakh, which they refused to accept.
Refusing the ex gratia amount, Sangeeta Gupta, Chandan's mother, demanded martyr status be accorded to her son.
Chandan was a student of commerce at a local college and was participating in the bike rally on January 26, the day violence erupted. Sushil Gupta, Chandan's father, said he was not affiliated with any of the organisations who took out the procession.
"We don't want anyone to do politics over my son's death. He was a true patriot. He was not affiliated with any political group or party," the aggrieved father said.
"The incident might be a conspiracy but I cannot say anything. It's up to the administration to investigate. We have lost our son now we don't want this to happen to someone else," he said.
The clashes emerged on Friday when a group of motorcycle-borne men holding the National Flag and saffron flag were passing through a minority-dominated area.
"We have organised a flag hoisting ceremony at a crossroad here and invited the residents of the area to celebrate the Republic Day. A group of bikers with saffron flags in hand tried to interrupt the event and asked us to remove the chairs from the street. When we asked them to participate in our program they refused and kicked the chairs and raised provocative slogans. They also asked us to hoist the saffron flag," Munazir, a resident of the locality where it all started, said.
Whereas the other version says when a 'Tiranga Yatra' taken out by volunteers of VHP and ABVP on the Mathura-Bareilly highway was passing through a minority-dominated area, some miscreants pelted stones on them. Soon there was firing from the locality in which two persons received gunshot.
In the firing, Chandan was killed and Naushad was injured. Naushad was referred to Aligarh for treatment.
*News Searching By ABP*