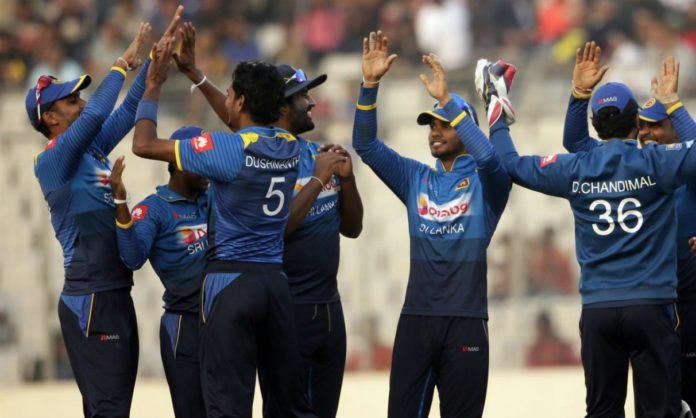 Sri Lanka win the final of the tri-nation series by 79 runs as Mahmudullah is the last Bangladesh wicket to fall.
Mahmudullah Riyad's wicket gives the newcomer a hat-trick in his first match for Sri Lanka. With no Shakib to come and bat for the Tigers, nine wickets was all Sri Lanka needed to win this match. Riyad spliced a shorth length delivery to extra cover to fall after a 92-ball 76. There was not much support for Riyad from the other end as all the batmsen who came after Mushfique returned to the pavillion with single digit scores.
41.1 — Mahmudullah falls and that's the hattrick for Madushanka Mahmudullah c Tharanga b Madushanka 76 (92b 6×4 3×6) SR: 82.60 FOW 142/9

End of over 40, Ban 141/8
39.6 — Rubel Hossain is bowled by an excellent Madushanka delivery. Rubel Hossain b Madushanka 0 (1b 0x4 0x6) SR: 0.00 FOW 141/8
39.5 — A high full-toss from newcomer Madushanka and Mashrafe tried to whack it but is holed out at mid-wicket. Mashrafe is bothered about the height of the ball and the umpire confirms before giving out. Mashrafe Mortaza c Mendis b Madushanka 5 (12b 0x4 0x6) SR: 41.66 FOW 141/7
Suranga Lakmal and Madushanka have been able to keep the Tigers in check but Mahmudullah was able to pull a short-length delivery for four square of mid-off in the first delivery of the 40th over. The required run rate is well over 7 at the moment.
36.3 — Just when things were looking a little optimistic for Bangladesh there is a terrible mixup and Mohammad Saifuddin sacrifices his wicket. He tapped the ball towards midwicket and takes two steps forward. That was enough for Mahmudullah to sprint down from the non-striker's end and Saifuddin started his sacrifical spring belatedly, losing the race with the fielder and ending up in a heap after the fielder broke the stumps. Mohammad Saifuddin run out 8 (29b 0x4 0x6) FOW 127/6 
End of over 35, Ban 119/5
Mahmudullah Riyad hit two huge sixes, first in the 33rd over from Akila Dananjaya and then in the 35th over off Suranga Lakmal, bringing the equation down 103 runs off 90 balls with five wickets remaining
31.2 — With a dab down to third man off Dushmantha Chameera, Mahmudullah Riyad brings up his 18th ODI fifty and the Bangladesh 100.
End of over 30, Ban 97/5
Mahmudullah Riyad carries the dying hopes of a nation seeking to win their first tri-series. Half the side is gone, Shakib Al Hasan is unlikely to bat after dislocating his left little finger while fielding. Riyad is batting on 48 off 65 balls and has rookie Mohammad Saifuddin for company.
28.1 — And Mehedi Hasan Miraz departs, caught and bowled by Akila Dananjaya. It is a tame dismissal; the bounce off the surface surprised Mehedi as he went for the forward defensive, and the ball just lobbed back to the bowler. Mehedi Hasan Miraz c & b Dananjaya 5 (14b 0x4 0x6). FOW 90/5
End of over 25, Ban 84/4
Things looking grim for the home side. Shakib Al Hasan has his arm in a sling in the dressing room. Mehedi Hasan Miraz and Mahmudullah Riyad are at the crease, and only Mohammad Saifuddin and Mashrafe Bin Mortaza are left among the competent batsmen.
22.4 — Mushfiqur survived a leg-before review playing an attempted sweep in Akila Dananjaya's previous over, but he does not learn the lesson. He goes for the sweep again and top-edges it straight to short fine leg. Mushfiqur Rahim c Tharanga b Dananjaya 22 (40b 1×4 0x6). FOW 80/4  
End of over 20, Ban 72/3
Mahmudullah Riyad and Mushfiqur Rahim have calmed the waters a bit, batting sensibly and looking for the singles. They have added 50 runs for the third wicket.
End of over 10, Ban 26/3
Poor shot selection have once again led to the Tigers's downfall as Sabbir Rahman is the third batsman to go back to the pavillion. Things are looking bleak for the Tigers as Sri Lanka are in a dominant postion having claimed three wickets within the last five overs.
9.2 — Sabbir pulls a short delivery and plays it straight to man at mid-wicket. Sabbir Rahman c Gunaratne b Chameera 2 (9b 0x4 0x6) SR: 22.22
8.1 — Direct hit catches Mithun out of his crease. Mohammad Mithun run out 10 (27b 0x4 1×6) SR: 37.03
5.3 — Tamim falls Tamim Iqbal c Dananjaya b Chameera 3 (18b 0x4 0x6) SR: 16.66 FOW 11/1
End of over 5, Ban 11/0
It has been a slow start from Bangladesh but Mithun Ali hit the first boundary in the fifth over.
End of over 50, SL 221 all out
Superb death over bowling from Rubel Hossain and Mustafizur Rahman ensured that Sri Lanka lost their final five wickets for just 39 runs after threatening to post a big total at one point.
Rubel bagged four wickets for 46 runs from his 10 overs while Mustafizur finished with figures of two for 29.
49.6 — Mushy runs out Lakmal. RAS Lakmal run out 2 (4b 0x4 0x6) SR: 50.00 FOW 221/10
49.2 — Rubel with an in swinging yorker. DSK Madushanka b Rubel Hossain 7 (6b 1×4 0x6) SR: 116.66 221/9
48.3 — Fizz gets Dananjaya A Dananjaya c Mohammad Mithun b Mustafizur Rahman 17 (16b 1×4 1×6) SR: 106.25 FOW 217/8
Rubel strikes twice to remove Gunaratne and Chandimal as Sri Lanka are 207/7.
47.3 — Rubel yorks Chandimaal LD Chandimal b Rubel Hossain 45 (74b 0x4 1×6) SR: 60.81 FOW 207/7
End of over 45, SL 185/6
44.3 — Rubel gets Gunaratne's scalp DAS Gunaratne lbw b Rubel Hossain 6 (14b 0x4 0x6) SR: 42.85 FOW 182/6
End of over 40, 167/5
Bangladesh bag the wickets of Upul Tharanga and Thisara Perera as Sri Lanka are 167/5 after 40 overs. Mustafizur Rahman got his 50th ODI wicket before Rubel Hossain gets Thisara Perera's scalp.
38.4 — Rubel removes Thisara Perera as Rubel's quick short length ball hits the batsman high on the bat. NLTC Perera c Tamim Iqbal b Rubel Hossain 2 (10b 0x4 0x6) SR: 20.00 FOW 163/5
35.3 — Fizz removes Tharaga, who was set at the crease WU Tharanga b Mustafizur Rahman 56 (99b 5×4 0x6) SR: 56.56 FOW 158/4
End of over 35, Sl 157/3
Sri Lanka have upped the run rate in the last five overs as Upul Tharanga has reached his half century. Last five overs have brought in 31 runs and with seven wickets in hand, Sri Lanka have a good launching pad for a big score.
End of over 30, SL 126/3
The last 5 overs have seen the Sri Lanka run-rate slow down after Saifuddin picked up the wicket of Dickwella. Rubel Hossain and Shakib Al Hasan have bowled in tandem as only 10 runs were conceeded off the last five overs.
End of over 25, SL 116/3
Skipper Dinesh Chandimal joins Upul Tharanga out in the middle. Shakib Al Hasan has come on to bowl from the 25th over, meaning that skipper Mashrafe Bin Mortaza is thinking of tightening the screws in the latter half of the innings. The net 40-45 minutes should be interesting.
23.5 — Mohammad Saifuddin gets one to bounce awkwardly off the surface, opening Niroshan Dickwella up for the ball to take the leading edge and looping to Sabbir Rahman at point. N Dickwella c Sabbir Rahman b Mohammad Saifuddin 42(57b 4×4 0x6). FOW 113/3 
End of over 20, SL 94/2
Sri Lanka building a great base here and if these two continue till the 30th over, Bangladesh may be looking at a all order here. Shakib AlHasan is yet to bowl however.
End of over 15, SL 82/2
Sri Lanka are going strong after the loss of two wickets. Bangladesh have managed to dry up the runs. A big shout from Mustafizur in the 14th over was followed by Mashrafe taking a review for the leg-before decision but ball was missing the leg-stump as Bangladesh lost a review.
End of over 10, SL 60/2
Upul Tharanga and Niroshan Dickwella have gone aout their business smoothly, punishing anything slightly full or straying down the leg-side. This looks like a good batting track and Sri Lanka are taking advantage. Tat one big over, where Miraz concceeded 24 gave Sri Lanka the momentum they needed. Bangladesh came back with the wicket of Mendis but Sri Lanka are scoring at 6 per over.
Mendis's strike rate speaks of the havoc he created in his 9-ball stay at the crease. He mistimed a pull shot off Mashrafe and gave a simple catch to man at mid-wicket.
5.6 — Mashrafe Bin Mortaza removes batsman Kusal Mendis who was looking ominous with the bat.BKG Mendis c Mahmudullah b Mashrafe Mortaza 28 (9b 2×4 3×6) SR: 311.11 FOW 42/2
End of over 5, SL 37/1
Kusal Mendis hits three sixes and a four off Miraz in the fifth over as Sri Lanka are off to a flier despite losing a wicket.
Miraz Strikes and Danushka Gunalathika is gone as Sri Lanka lose their first wicket.
Mehedi had an excellent first over where he went past Gunathilaka's bat on a couple of occasions. Gunathilaka fell after mistiminng a full length delivery.
2.5 — Mehedi scalps Gunalathika. MD Gunathilaka c Tamim Iqbal b Mehidy Hasan Miraz 6 (11b 1×4 0x6) SR: 54.54 FOW 8/1
Sri Lanka have won the toss and elected to bat first in the final of the tri-nation series against Mashrafe Bin Mortaza's Bangladesh side.
Three changes to the Bangladesh side as Mithun Ali replaces Anamul Haque in the opening slot, Mehedi Miraz replaces all-rounder Nasir Hossain and Abul Hasan is replaced by Mohammad Saifuddin.
One change for Sri Lanka as Shihan Madushanka replaces Lakshan Sandakan.
*News Searching By Thedailystar*