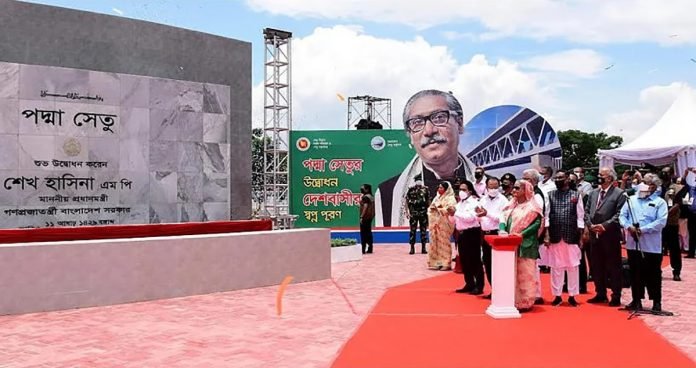 Prime Minister Sheikh Hasina has inaugurated the much-anticipated 6.15 kilometer Padma Bridge for traffic movement ushering in a new era of connectivity for 21 south and southwestern districts in the country.
She inaugurated the country's longest bridge by unveiling the inaugural plaque at the Mawa point at 11:58 am today, Saturday.

Padma Bridge is Bangladesh's largest self-financed mega project which is likely to boost GDP by 1.2 to 2 per cent.
The World Bank pulled out of a $1.2-billion loan contract for the construction of the Padma Bridge in 2012 alleging corruption in appointing consultants, throwing the project into uncertainty.
Bangladesh repeatedly denied the allegation and later went ahead with its self-funded plan for constructing the bridge to connect people on both sides of the Padma River.
Finding no proof of corruption, a Canada court also dismissed an international bribery case linked to Padma bridge construction in Bangladesh.