New York Correspondent: March 22 was a special day for Bangladeshi immigrants in New York.
New York's Mayor Eric Adams organized a program titled "Bangladesh Heritage Month" on the occasion of Bangladesh's 52nd Independence Day on March 22.
Five Bangladeshi immigrants were given special honors in this event held on March 22 (Wednesday). The honorees were Rutba Tabassum, Rima Begum, and Babu Khan, the president of the Premium Group; Shah J. Choudhury, the founder and president of the Shah Foundation; and mainstream politician and businessman Md. Delwar Islam. The program was presented and sponsored by Fahad Solaiman, the Asian Affairs Advisor in the New York City Mayor's Office. Mayor Eric Adams, Chief Adviser Ingrid Lewis-Martin, and Assemblywoman Jenifer Rajkumar were present at the event.


In America, you all believe in education, believe in public safety, and believe in family. Mayor Eric Adams stated in his speech that "you will have a difficult time talking about what ethnic group I am describing because your journey as a Bangladeshi is the same journey as others." Our journey is the same. If you look under the fingernails of every ethnic group, you'll see the desire to climb up the mountain one hand at a time to participate in the American dream. That's why we come here because we believe opportunities are here. "They too want to pursue the dream that you will pursue."
"We have thousands of jobs that are waiting to be filled. Like Mir, we want you to go into your community and find people who are looking for employment, and let them go into city service. We want to increase the number of Bangladeshi police officers so that we can have supervisors who will increase the numbers of department — of DOT, Department of Sanitation, HPD, all of these services. Don't be an outside spectator as you try to improve this city. We want you to be part of this administration like so many others."
The Mayor thanked Fahad Solaiman, the Asian Affairs Advisor in the New York City Mayor's Office, for sponsoring this event. He said, "I want us to continue to do these things as we move forward as a city." You were there for me when I ran for office. I told you then, and I'll tell you now. I'll never forget your support. I'll never forget your love. I'll never forget the Bangladeshi community. "Thank you very much."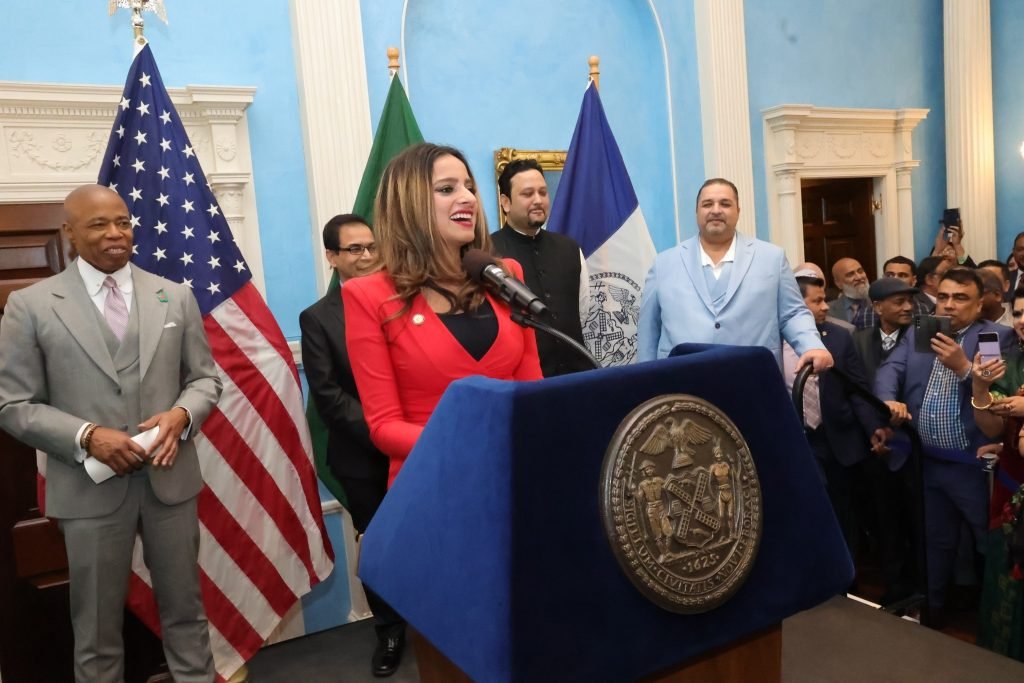 Assemblywoman Jenifer Rajkumar said, "We are here for this historic event at the mayor's house because for the first time, our community, the South Asian community, has a direct voice in city hall." And in fact, they call Mayor Adams the first South Asian mayor. He sees our community. He understands us whether you're from Dhaka, select Jackson Heights, or Ozone Park. This is the mayor who values you. He believes in us. He's a true leader, a great leader. And so today, on the week of Bangladesh Independence Day, I am thinking of great leaders like Mayor Adams and Sheikh Mujibur Rahman, the founding father of Bangladesh. "I am remembering the freedom fighters of the Bangladesh Liberation War."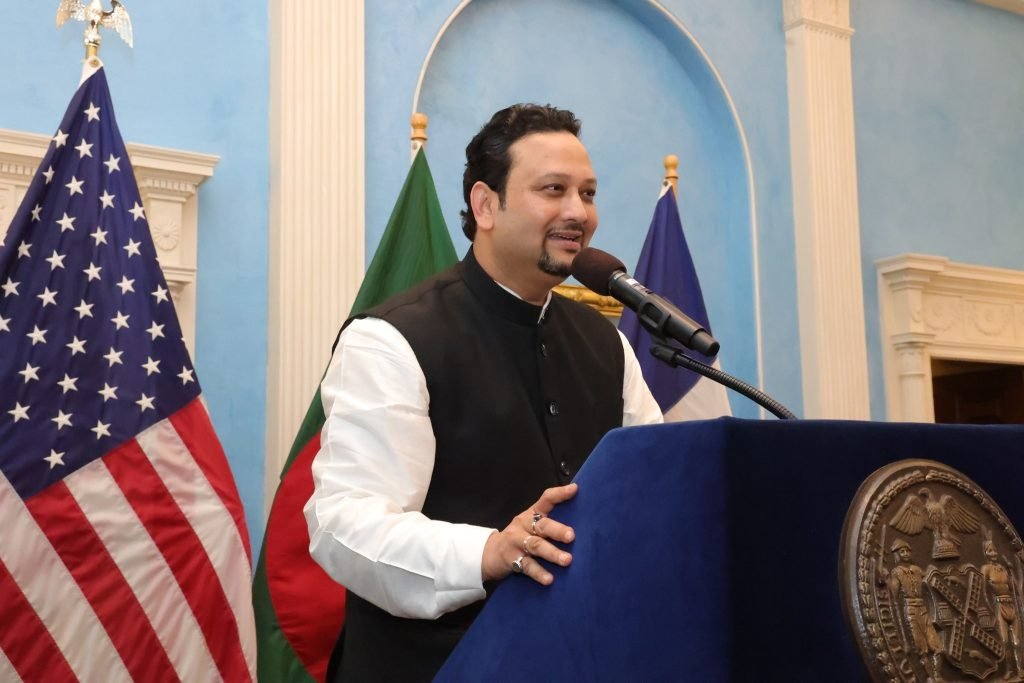 Fahad Solaiman thanked Mayor Eric Adams and said, "I would like to thank our honorable mayor for giving us the opportunity and privilege to celebrate the Bangladesh heritage and 52nd Independence Day of Bangladesh." This is the first time we are celebrating the Bangladeshi heritage and 52nd Independence Day of Bangladesh at Gracie Mansion, the official residence of the Mayor of New York City. This is a historical event. And this history has been made possible because we have a mayor like Eric Adams. He is not just the mayor of any particular community; he is the mayor of every community in New York. He is the guardian of New York City for us. He is the best of the best. That is why we got the privilege."
Fahad Solaiman said, "Mayor Eric Adams inaugurated the mosque in Jackson Heights last Friday. And this is the first time ever that any mayor has done it for the Muslim community. It's not only for the Bangladeshi Muslim community; it's for all Muslim communities in New York. He was presented with a holy Quran that day. I hope he gets the time to read it. He also made an expansion for the halal food in the school and made sure that the Muslim kids could get the halal food. "Our community is always with you."
Fahad Solaiman, the Asian Advisor of the New York City Mayor's Office, said about the honoring of the five Bangladeshis that we'd like to give some recognition to those who have done a remarkable job for the past few years. Whatever they did, it was always good. So we've got to recognize them.
Honoree Shah J. Choudhury, the founder and president of the Shah Foundation and Ruposhi Bangla Entertainment in New York, thanked Mayor Eric Adams and the Asian Affairs Advisor of the Mayor's Office Fahad Solaiman in his response, saying, "Mayor Eric Adams honored me, but I was far more honored from within." The reason is that today's accomplishment is not solely mine. This accomplishment belongs to everyone who has worked tirelessly in association with our organization.
He said that this honor is dedicated to all of my colleagues and the people of this country. Also, please support and encourage me in this way so that I can respect the country as a representative of it. This achievement is for all Bangladeshis. Because I am more than just an immigrant in New York, I am also a representative of my country.
The Consul General of Bangladesh in New York presented Mayor Eric Adams with a framed portrait of the Savar National Memorial, which is dedicated to the memory of freedom fighters and civilians killed during the Bangladesh Liberation War.
Translated by Zahan Ara Dolon
---
Album
---