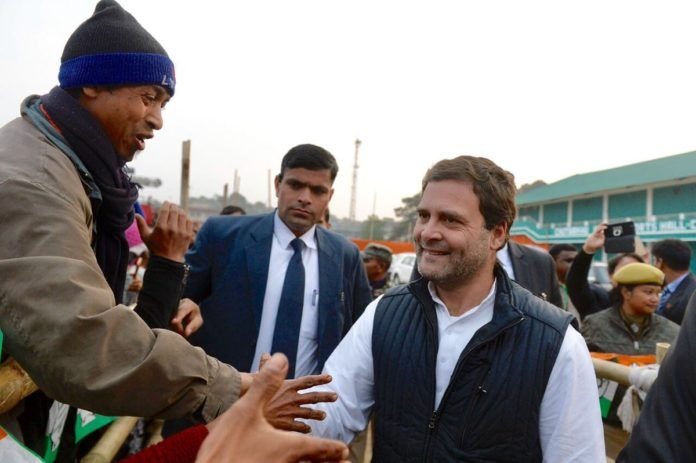 New Delhi: Opposition parties may have criticised Congress President Rahul Gandhi on various occasions but undeterred he has constantly shown his being human nature on many occasions.
On Tuesday, Rahul Gandhi's photos helping his co-passengers in placing their luggage onboard a Delhi-Guwahati flight spread like wild fire on social media.

In the pictures, he can be seen arranging luggage of his co-passengers and some passengers also clicked selfies with him.
"Congress President Rahul Gandhi offers a helping hand to Co-Passengers while locating their luggage today On his flight from Delhi to Guwahati," wrote a Twitter user while posting Gandhi's photos.


However, this isn't the first occasion when Rahul Gandhi acted like this or mixed with common people.
In December 2017, adding a sight of unusualness to the usual state of affairs at the IGI airport, Rahul Gandhi was seen standing in a queue waiting to board an Indigo flight to Ahmedabad. Indigo Airlines had tweeted a picture of Gandhi who was carrying a black backpack and was standing with other passengers in the queue.
Image: Twitter
The Congress president's surprising act had unfolded in the early hours of 9th December. The date also happens to be his mother, Sonia Gandhi's birthday.
There are other incidents also like when Gandhi stopped his cavalcade to allow a female fan to take a selfie with him or when he stood in the queue to take out money from ATM.
Image: PTI/File
But the one incident which touched my heart was when he helped the Nirbhaya's family anonymously.
Thanks to Rahul Gandhi, after completing his commercial pilot training, Nirbhaya's younger brother joined a private airline. Nirbhaya's parents thanked the then Congress vice-president Rahul Gandhi for making it possible.
"My son (he refused to name him) is now a pilot. He completed his training recently. He has joined IndiGo Airlines and is already flying planes. And it is true it was possible because of Rahul Gandhi," said Badrinath Singh, reported IANS.
Singh said his son after completing his Class 12 got admitted to the Indira Gandhi Rashtriya Uran Akademi, a government-funded autonomous institute in Rae Bareli — the Lok Sabha constituency of Rahul Gandhi's mother Sonia Gandhi.
"Rahul Gandhi made it possible. He looked after us after the incident," the father said, news agency further reported.
"Rahul Gandhi was the one who counselled him and motivated him to achieve something good in life to support the family. After learning that he wanted to join the defence forces, Rahul asked him to pursue a pilot's training course after completion of school," Asha Devi told Mail Today.
The new India needs a people's leader…a leader with whom common man can connect with…a leader who is one among the commons.
And it seems that Rahul Gandhi is on his way to fulfilling that dream of the common people of India.
Just by saying that we want to end VIP culture won't help. If VIPs want to end VIP culture, they have to walk the talk.
About the author: Author Anurag Kumar is an Associate Producer in ABP News Network Pvt Ltd and tweets at @AnuragSason


Disclaimer: The views expressed by the author are personal and do not reflect the opinions, beliefs and views of ABP News Network Pvt Ltd.
*News Searching By Abp*