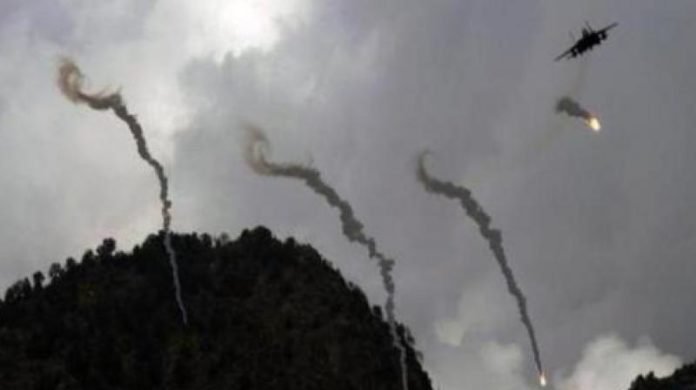 Ankara [Turkey], Feb 27 (ANI): Regime airstrikes and shell-firing continued in Eastern Ghouta in Syria with no signs of stoppage despite United Nations Security Council's call for a 30-day ceasefire, according to Syrian civil defense sources, the White Helmets.
One civilian was killed and scores were injured when the fresh airstrikes and artillery shells loyal to Syria's Russian-backed president Bashar al-Assad regime were fired into Eastern Ghouta's Douma, Bayt Sava, and al-Marj regions at around 10.30 a.m. (local time) on Tuesday, the White Helmets said in a statement.

On Monday, Russian Defense Minister Sergey Shoigu said Russia would introduce a daily humanitarian pause in Eastern Ghouta from February 27 by the order of President Vladimir Putin for the citizens to leave the war-ravaged Syria.
"A humanitarian corridor will be open for civilians to exit the region every day from 9 am till 2 pm", Shoigu said.
Major General Yuri Yevtushenko, the head of Russian Center for Reconciliation of opposition parties in Syria, added that the humanitarian pause would apply to the regime, Anadolu news agency reported.
The UNSC on Saturday unanimously backed a 30-day ceasefire resolution in Syria to allow for humanitarian aid deliveries and medical evacuations "without any delays."
In the past eight months, regime forces have intensified their siege of Eastern Ghouta, making it nearly impossible for food or medicine to get into the district and leaving thousands of patients in need of treatment.
Since February 19, escalating hostilities have resulted in 500 deaths and some 1,500 injuries in Eastern Ghouta, with 24 health facilities impacted by shelling and airstrikes, according to UN officials.
Eastern Ghouta, which houses around 400,000 residents, has remained under a crippling regime siege for the last five years with humanitarian access being completely cut off.
In May last year, Russia, Iran and Turkey signed an agreement to set up de-escalation zones, in order to prevent airstrike-related incidents in some parts of Syria.
The de-escalation zones include- Idlib province, some parts of Latakia province, Hama and Aleppo provinces, Homs, Eastern Ghouta, Daraa and al-Quneitra provinces in southern Syria.
Syria has been embroiled in a civil war since 2011. Protesters have been long demanding the resignation of Assad over his autocratic rule. (ANI)
This story has not been edited. It has been published as provided by ANI