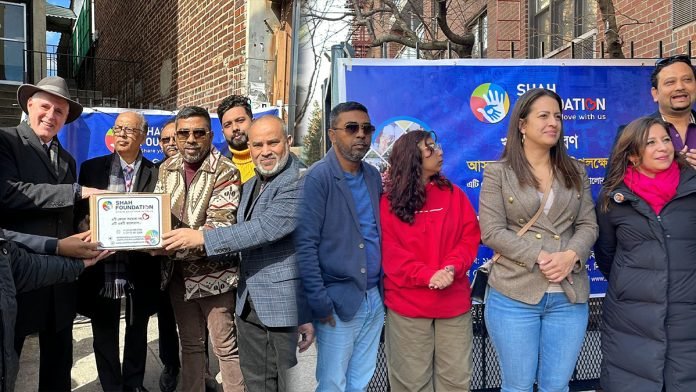 By Zahan Ara Dolon
---
The Shah Foundation, a humanitarian organization, has distributed Ramadan aid to over 600 people in Jackson Heights, New York, and Jamaica ahead of the upcoming the holy month of Ramadan.

The Shah Foundation has been working in the service of humanity since its inception. The organization has always reached out to humanity, not just in New York. Shah Foundation stands by the side of helpless people, particularly in the USA, Bangladesh, and India.
Previously, during the floods and the Coronavirus epidemic, the Shah Foundation appeared with warmth next to cold people. On the eve of Ramadan this year, the Shah Foundation distributed food items in Bangladeshi-domiciled areas of Jackson Heights and Jamaica.
On the afternoon of March 18, Ramadan food items were distributed in front of the Nabanna Restaurant in Jackson Heights and in front of the Fatima Grocery in Jamaica on the afternoon of March 19. The event was presided over by Shah Foundation Director Moinuzzaman Chowdhury and conducted by another director, Fahad Solaiman, with Jackson Heights Assemblywoman Catalina Cruz and Jessica Ramos Gonzalez as guests.
The event was attended by Shah J. Choudhury, the founder and president of the Shah Foundation; AKM Fazlul Haque, the foundation's director and a businessman; Husneara Choudhury, one of the co-founders; and Sadia J. Choudhury, another co-founder of the foundation. Ruhul Amin Siddiqui, Nazmul Ahsan, Litu Chowdhury, Shah Chishti, Mohammad Humayun, Ahsan Habib, Major (Retd) Jalal, Alamgir Khan Alam, Ahmed Hussain Deepu, Nihar Siddiqui, Mohammad Azizul, Mir Nizamul Haque, Shakeel Mia, Solaiman Patwari, and others attended too.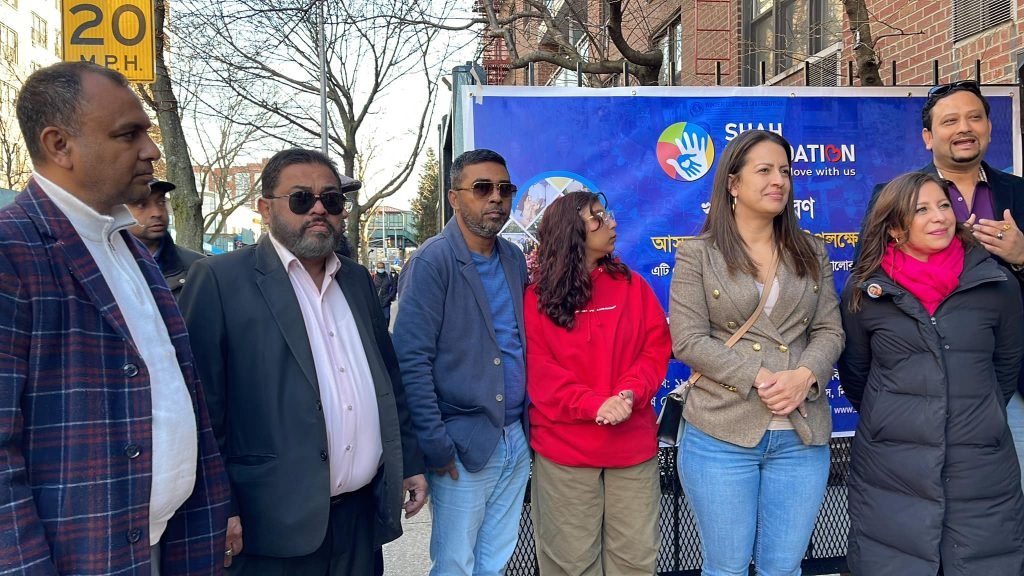 Assemblywoman Catalina Cruz thanked the Shah Foundation for its work in the service of humanity. "This is the greatest religion," she declared. Serving others and standing by the helpless "I am and will always be a person of good deeds," she stated. The community requires more organizations like the Shah Foundation.
According to Assemblywoman Jessica Ramos Gonzales, the Shah Foundation is doing good work. Ramadan, she explained, is a holy month of self-purification. During this month, people fast. Due to poverty, many people are unable to purchase the items they desire during fasting. The Shah Foundation is addressing this issue. I hope they continue this lovely work in the future.
Shah J. Choudhury stated that this donation was made on behalf of our family. All donations for these events have come from my eldest daughter, Fauzia J. Choudhury, co-founder and CEO of this organization. Aside from that, Haque & Sons provided us with these items at the purchase price. They did not benefit in any way. As a result, Haque & Sons can be considered a partner. "This is our third program," he explained. We also provided food aid during Ramadan the previous two years. He claims it's not a favor, but rather our love. This is how we wish to love others.
Rice, lentils, dates, black chickpeas, oil, muri, semai, and masala were among the food aids. The value of each box is known to be $50. Food was to be distributed to approximately 300 people in Jackson Heights. The food distribution was supposed to begin at 5:30 p.m., but people began arriving at noon. As a result, extra rice and pulses are purchased right away. Everyone received something.
Food distribution in Jamaica:
The Shah Foundation distributed Ramadan food items in front of Fatima Grocery in Jamaica on the afternoon of March 19. AKM Fazlul Haque, Director of the Shah Foundation, presided over the event, which was moderated by J. Molla Sani, General Secretary of the Jamaica Bangladesh Friends Society. As guests, Councilmembers James F. Gennaro and Natasha Williams, as well as mainstream politician Fakhrul Islam Delwar, attended the event.
The event was attended by the organization's president, Shah J Choudhury, co-founder Husneara Choudhury, director Moinuzzaman Chowdhury, Bilal Chowdhury, Rezaul Karim Chowdhury, Kamrul Islam Soni, Enayet Ullah Sentu, AF Misbauzzaman, ABM Osman Gani, Azhar Ahmed, and Rimi Bhuiyan.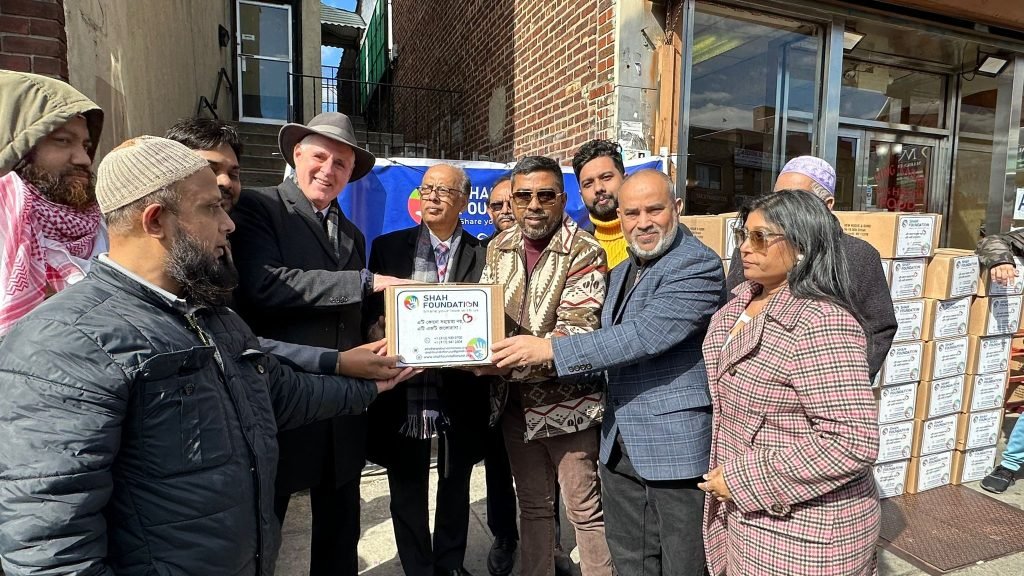 Council member James F. Gennaro thanked the Shah Foundation and said the initiative was fantastic. The most important lesson of Ramadan and religion is to help those in need. The Shah Foundation is doing outstanding work. "I am a friend of Bangladeshis in this area," he said. I have always supported the people of Bangladesh and will continue to do so.
"I am delighted to come to this beautiful event of the Shah Foundation," council member Natasha Williams said. Because there is a distinction to be made between being good at something and assisting others. And that is exactly what the Shah Foundation is doing. She expressed her desire to be involved in all future Shah Foundation activities.
Fakhrul Islam Delwar stated that, although Shah J. Choudhury is the founder of the Shah Foundation, we are all also involved with it. He stated that the Shah Foundation has been dedicated to people's service since its inception. He expressed gratitude to Shah J. Choudhury and his family for this.
Approximately 600 needy people received food aid during the two-day food distribution program.
---
Album
---