Zahan Ara Dolon, Hindustan Surkhiyan Desk: The Shah Group made its debut in India 18 years ago. The goal was to become "versatile." The main reason for starting from India was that Shah J Choudhury was born in Bangladesh but he was established in India. Shah J Choudhury is the son of freedom fighter Abul Hashem and Nur Jahan. Choudhury has several businesses. He moved to America with his family a few years ago. He brings his own business and goals. One of which is human welfare. After moving to America, the founder of Shah Group, Shah J Choudhury, expanded the scope of this group. Shah transformed the group into an international organization. The organization now operates in Asia and America.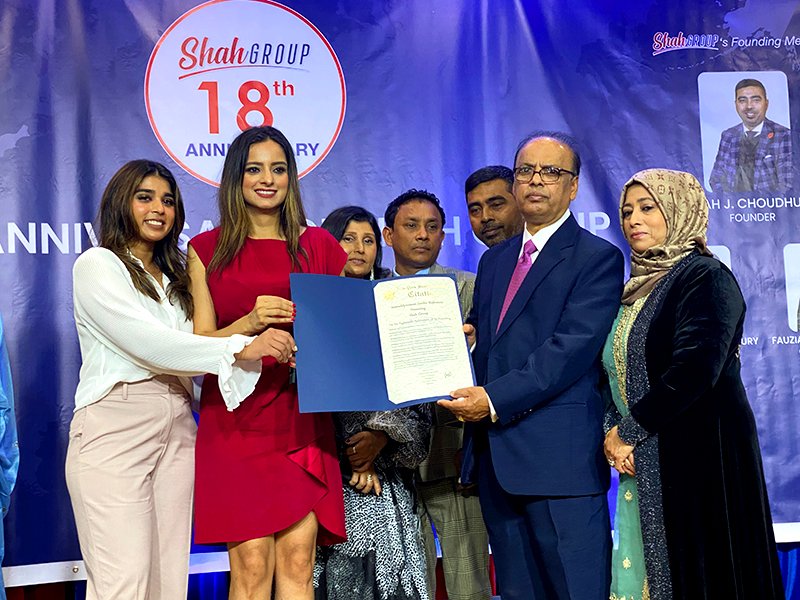 An event was organized at Gulshan Terrace in Woodside, New York to mark the company's 18th anniversary. The event was attended by dignitaries from the mainstream and community. Shah Group Founder Shah J Choudhury, Founder Husneara Choudhury, Fauzia J Choudhury, Advisor AKM Fazlur Rahman, and Moinul Islam were introduced by Shah Group Advisor Fahad Solaiman at the beginning of the program. Assemblywoman Jennifer Rajkumar, New York State Senator John Liu, Representative of Queens Borough President Donovan Richards and Deputy Ebony Young, Assembly member Catalina Cruz's Representative Shahed Chowdhury, Bangladesh Society Board of Trustee Chairman M. Aziz Ahmed, and businessmen Faisal Aziz, Nargis Ahmed, and Vijay were present as the guests.

Musician Rathindra Nath Roy, musician Shahid Hasan, Golden Age Home Care President Shah Newaz, Jalalabad Association President Moinul Haque Chowdhury Helal, former President Badrun Nahar Khan Mita, Bangladesh Society Treasurer Mohammad Ali, Sylhet Motors proprietor Munna, Tania, Rashek Malik, Simran, Rano Akhter and President of Jamaica Bangladesh Friends Society Fakhrul Islam Delwar, Former official of Bangladesh Society J Mollah Sunny, Education Secretary of Bangladesh Society Ahsan Habib, Community Board Member Ahsan Habib, Ataur Chowdhury, Rabiul Hasan and others delivered their speeches on the occasion.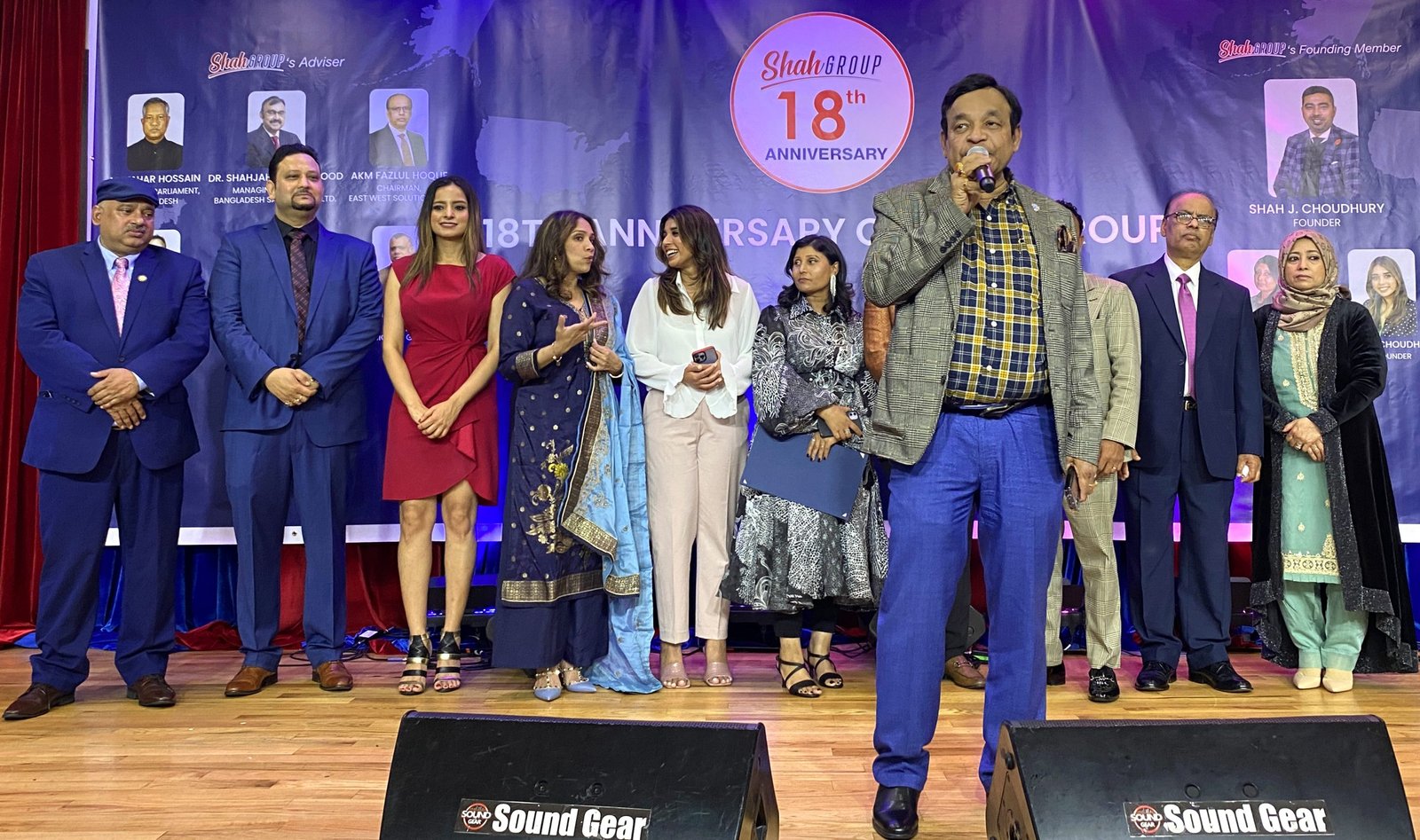 Acting President of Bangladesh Society Abdur Rahim Hawlader, businessman Bilal Chowdhury, former general secretary of JBBA Kamruzzaman Kamrul, businessman Abdur Rahman Biswas, businessman Litu Chowdhury, senior vice president of JBBA Mohammad Alam Nami, AF Misbauzaman, Rumman Rezaul, and freedom fighter Golam Mostafa Khan Miraj were present at the event.
Freedom fighter Abdul Mukit Chowdhury, freedom fighter Hiru Bhuiyan, freedom fighter Faruk Hossain, freedom fighter Matiur Rahman Chowdhury, freedom fighter Rachi, community activist Moinuzzaman Chowdhury, President of Hridoye Bangladesh, Professor Rafiqul Islam, politician Gias Uddin, Mostafa Zaman Tito of Narayangan Samitij, Poet Ishtiaq Rupu, Mizanur Rahman Mizan, Abdur Rashid Babu, and politician Maksudul Haque Chowdhury attended the event.
The event was attended by Publicity Secretary of USA Awami League Haji Enam, Mohammad Shafi Mia, Community Activists Sohail Gazi, Rahim Mia, Sadia, Salman, Businessman Nurul Azim, Poet Fakir Ilias, Poet Farhana Ilias Tuli, Musician Shah Mahbub, Musician Rano Newaz, Musician Kamruzzaman Bakul, Musician Mostafa Anik Raj, and Palash Noman.
Publicity Secretary of Bangladesh Society Riju Mohammad, Ifzal Chowdhury, Jamal Hossain, Hasan Jilani, Co-President of JBBA, Mofizur Rahman, Co-General Secretary, Nurul Amin Babu, President of Bangladesh Club, Shibli Sadiq and others were there.
Musician Rathindra Nath said, "I have seen Shah J Choudhury's human welfare activities." I am proud to be with him.
Ebony Young thanked Shah J Choudhury and gave him a citation on behalf of the Queens Borough President for his activities.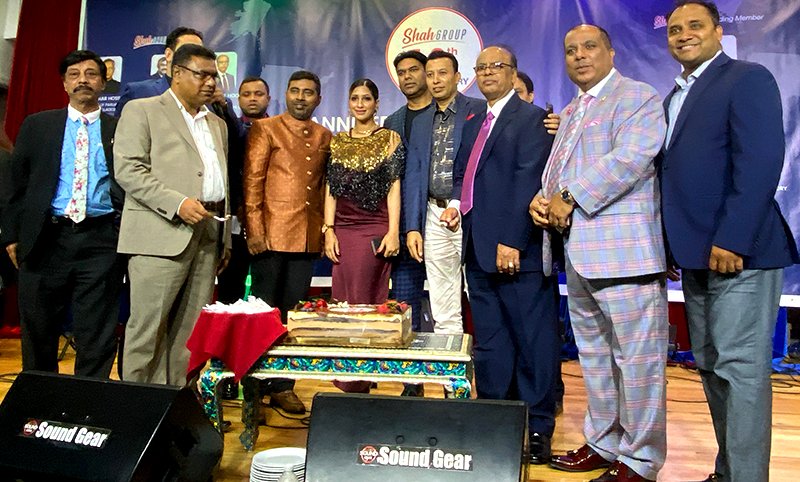 Assemblywoman Jennifer Raj Kumar thanked Shah J Choudhury and provided citations to the Shah Group.
M. Aziz said that Shah J Choudhury has silently stood by the helpless people due to his willpower.
AKM Fazlul Hoque greeted and thanked everyone.
The representative of Catalina Cruz, Shahed Choudhury, provided citations to Shah Group on behalf of Assemblywoman Catalina.
Moinul Islam said, "We always want to be with good deeds." That is why my involvement with the Shah Group. He called on everyone to stand by the helpless.
Fauzia J Choudhury thanked everyone for making the event a success and for taking their work forward.
Shah J Choudhury expressed his gratitude to all for making the event a success.
In the second part of the program, journalist Darpan Kabir introduced the journalists and the leaders of the community.
Bangladeshi musicians Tina Russell and Chandan Chowdhury performed at the cultural program under the direction of Alamgir Khan Alamgir, President of Showtime Music. Mr Apu also performed there.
In the last part of the program, Shah Group's birthday cake was celebrated with the kids.
---
Album
---