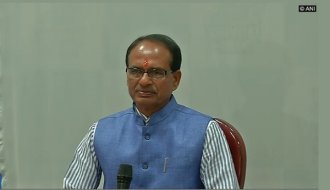 Bhopal (Madhya Pradesh) [India], Dec 17 (ANI): After a Madhya Pradesh Police personnel aimed his gun on senior Congress leader Kamal Nath at a Chhindwara airstrip, Chief Minister Shivraj Singh Chouhan has ordered a high-level enquiry into this matter.
"As soon as we got the information about the incident, I personally directed the DGP and senior officials to conduct a high-level enquiry into the incident. After proper investigation, the officers will reach to other conclusions," Chouhan told ANI.

The Bharatiya Janata Party (BJP) leader also assured to take necessary action against the accused.
"I must say that Kamal Nath is our senior leader. I respect him. Such incidents are serious, but they should not be politicised. We will take whatever necessary action is needed," he added.
The incident took place on December 15 after which the policeman was immediately overpowered by the security personnel and has now been placed under suspension.
Speaking to ANI, the Assistant Superintendent of Police (ASP), Neeraj Soni, had said "One of the policemen deployed for security of (Congress MP) Kamal Nath ji suspiciously pointed the gun towards him at the airport."
"We have suspended him and are investigating the matter," he added.
This incident came to light after Madhya Pradesh's former Advocate General and Rajya Sabha member, Vivek Tankha, took to Twitter and condemned the incident.
Nath represents Chhindwara in the Lok Sabha and is presently the longest-serving member of the Parliament. He has been elected nine times from Chhindwara. (ANI)
This story has not been edited. It has been published as provided by ANI
*News Searching By Abp*