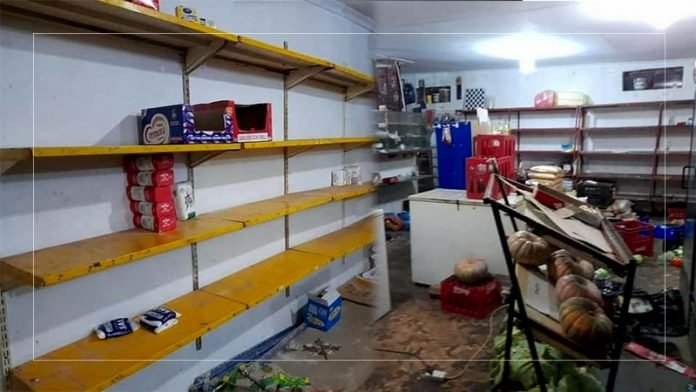 A mob looted and vandalised around 50 shops and malls owned by Bangladeshis in Brandfort of Free State province in South Africa on Tuesday.
The attack comes after businesses of foreign nationals were vandalised and looted over a five-day period since May 16 in Bloemfontein of the same province. The mobs had been protesting poor service delivery by the local government.

Around 10,000 Bangladeshis in Bloemfontein are living in fear after around 400 shops of Bangladeshis were vandalised, torched, and looted by the mobs there.
Brandfort saw the latest wave of attacks on Tuesday after protests broke out there over poor service delivery by the local government, said Sumon Chowdhury, a Bangladeshi businessman who has been in South Africa for 17 years.
Sumon has several shops and malls in Bloemfontein and Brandfort. He said all his shops in Brandfort have been vandalised and looted on Tuesday.
He claimed that this was the first time shops and malls of foreigners were attacked in Brandfort even though such attacks were common in other places of South Africa.
Anisur Rahman, whose four shops were looted and vandalised in Bloemfontein, told The Daily Star yesterday that several hundred Bangladeshis in Brandfort were living in fear.
"I have friends in Brandfort who told me that they were scared after the attack," said Anisur, who has been in South Africa for 11 years.
"Following the attacks in Bloemfontein, we didn't get any support from our high commission in South Africa. Likewise, Bangladeshis living in Brandfort are yet to get any help from the high commission."
After the attacks in Bloemfontein, Foreign Minister AK Abdul Momen told The Daily Star that law and order in different parts of South Africa had been not good over the years.
"We are working on how to address the situation. We have already asked the Bangladesh high commissioner in South Africa to collect information about the incidents," he had told The Daily Star.
According to an estimate of the Bangladesh high commission in South Africa, around three lakh Bangladeshis live in the country. Most of them are involved in businesses while a small number of them have white collar jobs.
Quoting local authorities, news portal The South African reported that at least 70 people were arrested until May 19 after protests began against raw sewage flowing on the streets, poor sanitation, lack of public toilets, unfinished local government projects and public representatives indulging in corruption.
The tragic killing of a juvenile, who was allegedly shot by a security guard, further intensified the protests.
Daily Maverick, a news portal in South Africa, on Friday reported that frustration with service delivery failures resulted in 585 incidents of public protest between January 2013 and April 2021, 378 (65 percent) of which turned violent.
The xenophobic attacks on foreigners and their businesses are fuelled by the misguided perception that foreigners are reducing economic opportunities for South Africans, it said.
Despite repeated attempts, this newspaper could not reach officials of the Bangladesh high commission in Pretoria for comments.❐