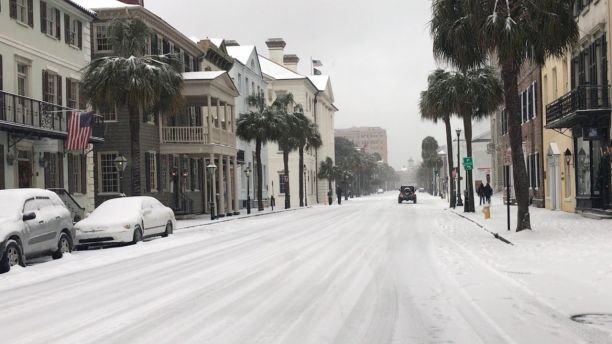 Much of the southeastern U.S. was slammed by a brutal winter storm Wednesday, with Florida, Georgia and South Carolina seeing a rare blast of snow and sleet — the worst snowstorm to hit some cities in decades.
Forecasters have warned the same weather system could soon strengthen into a "bomb cyclone" as it continues to travel north on the East Coast. The storm could "produce strong, damaging winds — possibly resulting in downed trees, power outages and coastal flooding," according to the National Weather Service (NWS).

At least 17 deaths have been blamed on dangerously cold temperatures that for days have gripped widespread areas of the U.S. from Texas to New England.
Floridians in Tallahassee saw snow for the first time in 28 years.
The National Weather Service on Wednesday recorded 5 inches of snow and significant accumulations of ice in Charleston, South Carolina. Across the Georgia-South Carolina state line, the weather service reported 1.2 inches of snowfall in Savannah.
Those are the highest accumulations recorded in either city since December 23, 1989, when Charleston saw a record 6 inches of snow. Savannah had 3.2 inches on the same date — its second-highest snowfall on record.
Some Floridians took the snow in stride.
"It was very neat to see. It had been since the early '90s since we got any snow like that," Laura Donaven told The Associated Press. "I made a snowball and threw it at my dad."
William Shaw said that Savannah, forecast to see up to 2 inches of snow Wednesday, had an "eerie feeling."
"It almost seems the town is deserted just like in the last hurricane," Shaw said of Savannah. "There's no one on the street. It's got a little eerie feeling."
Darius Rucker, of "Hootie & the Blowfish" fame, took to Twitter to share a photo of his front yard in Charleston covered in snow alongside the caption: "WOW!!!!"
Rob Atkinson, who took his pet outside to enjoy the weather, told Fox News the unusual weather for the city of Charleston is "beautiful."
"This is great," Atkinson said. "We just moved from New Jersey after being away for about twenty five years. It's beautiful out here."
A winter storm warning extended from the Gulf Coast of Florida's "Big Bend" region all the way up the Atlantic coast. Forecasters said hurricane-force winds blowing offshore on Thursday could generate 24-foot seas.
Interstate 95 saw ice-covered lanes almost all of its 200 miles, while Florida officials closed a stretch of Interstate 10 in Florida due to the wintry weather.
'BOMB CYCLONE' WINTER STORM TO HIT US EAST COAST: WHAT IS IT?
The icy weather forced airports in both Savannah and Charleston to shut down, while water attractions at Florida's largest theme parks were closed.
Record cold in Jackson, Mississippi, has so far broken 37 of the city's water mains, spokeswoman Kai Williams said Wednesday. The city has declared an emergency and is hiring outside contractors to help fix the breaks.
Blizzard warnings have been issued from Rhode Island to Maine. New England, according to Weather Prediction Center lead forecaster Bob Oravec, could see wind gusts up to 70 mph.
Bomb cyclones, or bombogenesis, "occurs when a midlatitude cyclone rapidly intensifies, dropping at least 24 millibars over 24 hours. A millibar measures atmospheric pressure," according to the National Oceanic and Atmospheric Administration (NOAA).
"This can happen when a cold air mass collides with a warm air mass, such as air over warm ocean waters. The formation of this rapidly strengthening weather system is a process called bombogenesis, which creates what is known as a bomb cyclone," NOAA said.
"It's sort of akin to a hurricane travelling up the coast," Ryan Maue, a meteorologist at the private firm Weather.US., said.
He added people "shouldn't be as worried about the storm as they should be about the extremely cold air behind it. The actual impacts aren't going to be a bomb at all. There's nothing exploding or detonating."
The NWS warned areas along coastal areas of New Jersey and the Mid-Atlantic could see up to 6 inches of snow, while parts of New England may see over a foot and high winds, prompting a blizzard warning.
Airlines are preparing for the storm in advance, and have canceled more than 3,060 flights Thursday as of 9:45 p.m. Wednesday night, according to FlightAware.
New York City Mayor Bill de Blasio canceled school for New York students on Thursday amid the impending weather.
Fox News' Terace Garnier, Travis Fedschun and The Associated Press contributed to this report.
*News Searching By Fox News*