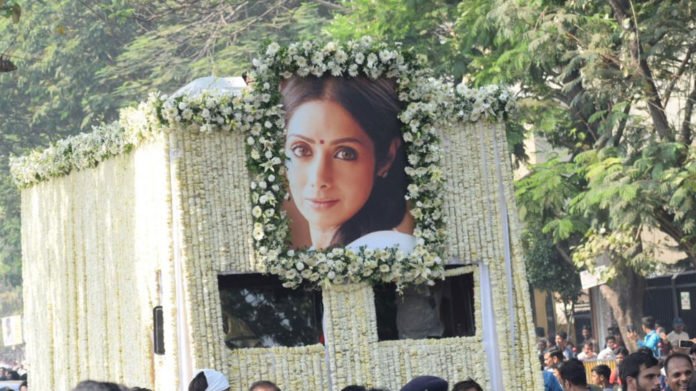 Hindustan Surkhiyan Desk:After a lifetime under the arc-lights, Indian cinema icon Sridevi was on Wednesday given a send-off fit for celluloid posterity with surging crowds of mourners walking with the cortege as it made its slow way through the city and thousands more glued to television to watch her last rites.
The 54-year-old, whose sudden death in Dubai late Saturday sent shock-waves through India, was given a state funeral with her body wrapped in the tricolour and a gun salute by the Mumbai Police.

Sridevi, Indian cinema's first woman superstar who straddled the parallel worlds of southern films and Bollywood, became an actor when she was only four years old.
Bollywood actors Anil Kapoor and Arjun Kapoor on a funeral vehicle during the funeral procession of actor Sridevi in Mumbai on Wednesday. PTI Photo
Three hundred films later, the doe-eyed actor is still remembered for her comic timing, vivacity and her quicksilver expressions.
Sridevi's funeral procession was the biggest Mumbai had seen for a Bollywood star since Rajesh Khanna in 2012 and perhaps the biggest for a woman, said old timers. There was a sea of people as far as the eye could see.
The last rites were conducted by her filmmaker husband Boney Kapoor as her family and close friends from the industry and outside packed into the Vile Parle Seva Samaj crematorium.
The couple's daughters, Jahnvi and Khushi, were by his side, sources close to the family told PTI.
Fans and the media were kept outside as the mortal remains of the star through the ages were consigned to the flames.
Anil Kapoor (L) stands with the body of actress Sridevi in the funeral cortege as they reach the crematorium for the final rites in Mumbai. Photo: AFP
The actor's body was draped in a red kanjivaram sari with a bindi on her forehead.
Few could hold back their tears as the ceremonial gun shots rang out and the pyre was lit.
Outside, there was mayhem with thousands of people, including star-gazers looking to freeze the moment on their phones, blocking the road leading to the crematorium. Police had a difficult time controlling the crowds.
ABP