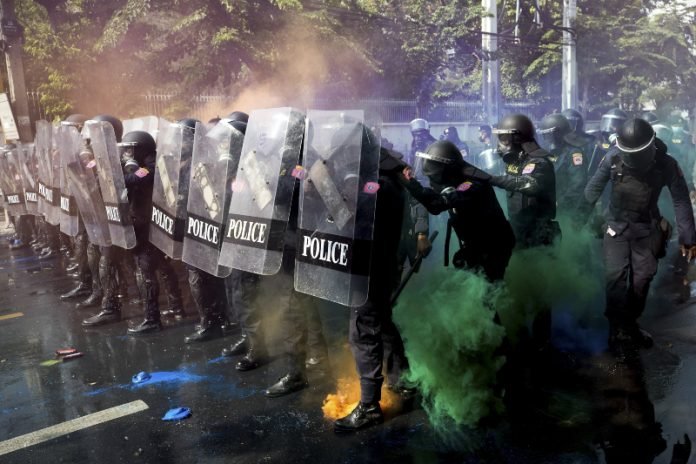 Pro-democracy protesters in Thailand battled police who sought to keep them from entering the grounds of Parliament on Tuesday to press for constitutional changes as lawmakers debated whether to back proposed amendments, report AP/UNB.
About 40 people were injured, including five who were shot, according to emergency services. It was unclear who fired the shots and whether they were live rounds or rubber bullets. Some of the injuries occurred during a brawl between the pro-democracy protesters and stone-throwing royalists who oppose constitutional change.

Police used tear gas and water cannons laced with irritating chemicals against the student-led demonstrators, who tried to push their way past barbed-wire barriers to enter the grounds of the legislature on the outskirts of Bangkok.
The chaotic street confrontations began in midafternoon and ended about six hours later, when protest leaders called a halt and sent followers home.
It was the worst violence during months of actions by the protesters, though police had previously employed water cannons at least twice. The protest movement has been staging increasingly determined mass rallies of thousands of people around the country.
Lawmakers are scheduled to vote on seven proposed constitutional amendments during a two-day joint session of the elected House and appointed Senate.
Constitutional changes require a joint vote of both bodies. Any motions that are passed will have to go through second and third votes at least a month after this week's balloting.
Lawmakers adjourned a previous session without voting on proposed amendments, leading the protesters to accuse the government of bad faith.❐